The Champions of Krakoa won the Contest of Swords! But Annihilation will not back down and accept the results. Find out what happens in Excalibur #15 by Marvel Comics!
X OF SWORDS: EXCALIBUR #15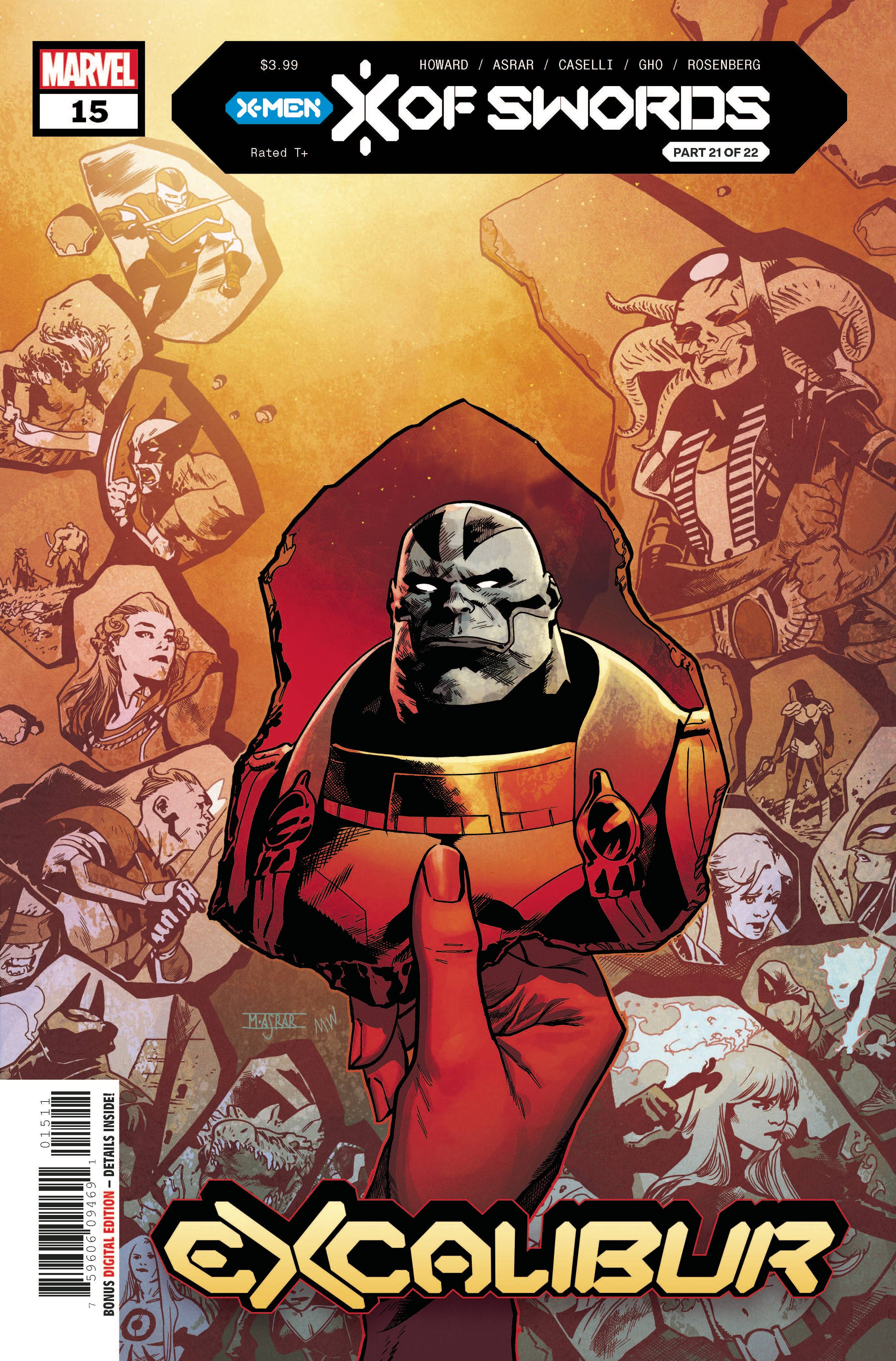 Writer: Tini Howard
Artist: Mahmud Asrar and Stefano Caselli
Colorist: Sunny Gho and Rachelle Rosenberg
Letterer: VC's Clayton Cowles
Editor: Jordan D. White
Publisher: Marvel Comics
Cover Price: $3.99
Release Date: November 25th, 2020
Previously in X of Swords: Champions of Krakoa and Arakko were pitted against each other for the fate of the multiverse. The tiebreaker round was set between Genesis and Apocalypse and Apocalypse came on top. However, he could not commit the final blow on his wife allowing Genesis to grab the Helm. And the Helm of Annihilation refuses to simply give in.
NOT PLAYING BY THE RULES
Apocalypse was able to defeat Genesis but Annihilation had other plans. Instead of simply surrendering and accepting the outcome she summoned her entire army. The only thing holding the line is the Champions of Krakoa. The White Sword immediately leaves the field and Bei switches sides to be with her husband. Though even with the powers of mutants like Storm, Magik, and Wolverine; things are looking grim. 
Luckily, Jubilee arrives with the Priestesses of the Green to fight back. Her goal is to look for Shogo and use the dragon's flame to their advantage. In the Starlight Citadel, Saturnyne gathers the destroyed pieces of Betsy Braddock. Sucking up her pride, she casts a spell to return her and all of the Captain Britain Corps to her aid!
NOT ACCEPTING DEFEAT
Apocalypse defeated Genesis which technically allowed Krakoa to win the tournament. Yet Genesis and Arrako aren't the true villain but rather the Helm of Annihilation. This allows us to focus on the redeemable aspects of Genesis and is foreshadowing reuniting the couple. It is an interesting thought that the enemy is an item rather than a person. Something that in theory can be destroyed and thus allows a broken family to be fixed. I don't know if I like it yet. I'll have to read the final issue but part of me was hoping to see a sad ending for Apocalypse. Something that makes him more of a villain. 
I thought Bei coming to Cypher's aid was a cool moment. We have a theme of family within the text and this emphasizes new family. Perhaps we will see another new era. Not just the mutant nation of Krakoa but a combination of mutants from Krakoa and Arakko. Perhaps that is the silver lining in this event.
BOTTOM LINE: THIS IS ABOUT WHAT I EXPECTED
I knew that Annihilation had an army behind them and they telegraphed that they were going to use it. Why else would they spend so much time explaining the horde of Arakko demons? I find myself disappointed that we did not get an all out brawl between the two teams within the tournament. But maybe that is more on me then the quality of this book. 4 out of 5 stars. This event has been fairly strong over all and I wonder what consequences are going to take place in the finale.
---
Dear Spoilerite,
At Major Spoilers, we strive to create original content that you find interesting and entertaining. Producing, writing, recording, editing, and researching requires significant resources. We pay writers, podcast hosts, and other staff members who work tirelessly to provide you with insights into the comic book, gaming, and pop culture industries. Help us keep MajorSpoilers.com strong. Become a Patron (and our superhero) today.
X of Swords: Excalibur #15
Genesis has been defeated at the hands of Apocalypse. However, with the Helm of Annihilation, she refuses to concede.
User Ratings (

0

Votes)

0