Elodie has allied herself with unicorns to kill Pazuzunox! Will she be able to set aside her desire for revenge to defeat the greater evil? Find out more in By the Horns #4 by Scout Comics! 
BY THE HORNS #4 (OF 7)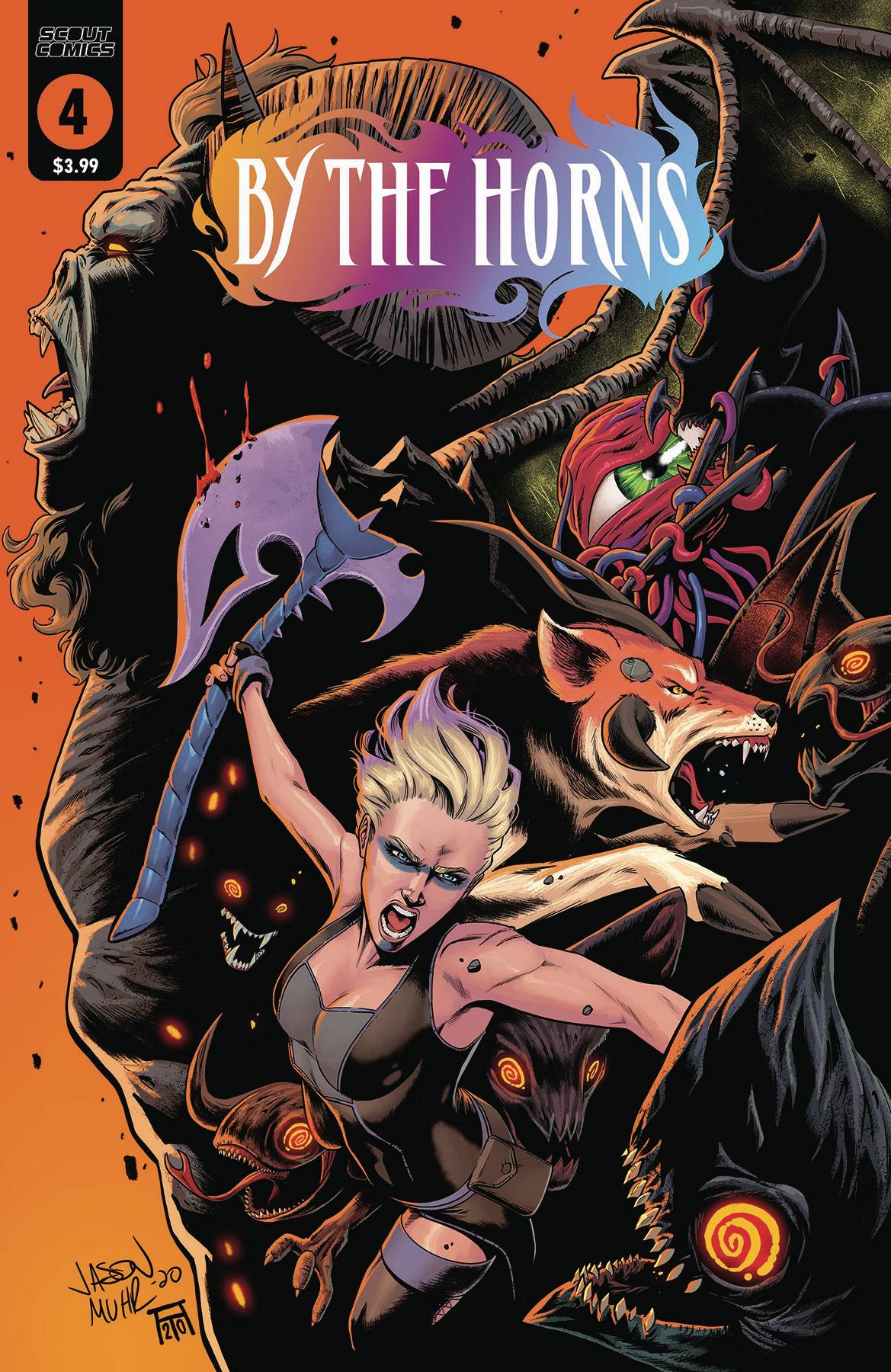 Writer: Markisan Naso
Artist: Jason Muhr
Artist: Andrei Tabacaru
Letterer: Jason Muhr
Editor: Wayne Hall
Publisher: Scout Comics
Cover Price: $3.99
Release Date: August 11th, 2021 
Previously in By the Horns: Elodie lost her husband to unicorns and has made it her mission to hunt every single one. However, when sorcerers have been hunting magical creatures, her and her companion Sajen end up needing the support of two unicorns. With the power of the unicorns' horns, Elodie was able to defeat one sorcerer but now is a target of the volcanic mage, Pazuzunox! Meanwhile, Haru and the people of Wayfarer are under attack by the wizard of the wind. 
By the Horns #4 starts us in the middle of the action with Elodie and crew fighting the forces of Pazuzunox. Pazuzunox power over fire proves to be overwhelming and forces them to be on the defensive. Rigby, the purple unicorn, decides to be brave and ask the wizard questions which gives Elodie and Evelyn time to find a weakness. Elodie takes Rigby's distraction and maneuvers behind Pazuzunox and stabs him in the back. This allows Rigby to come in and gore Pazuzunox with its horn. With the wizard dead, the group is able to relax.  
Resting in a hot spring, the group enjoys the victory with some alcohol, but Elodie still remains distrustful of unicorns. The group is suddenly attacked, and Rigby jumps forward to protect Elodie from a swarm of flying creatures! Meanwhile, Wayfarer is still under attack, and they don't look like they will be able to stop Oeb, Night Sand Warlock of the Western wind! 
I am not usually a fan of action filled comics, but I found myself thoroughly enjoying By the Horns #4. There is something cool about Evelyn, a floating eyeball with tentacles, holding a gun to fight alongside our heroes. But most importantly, the action facilitated character growth by allowing Rigby to shine. I don't think Markisan has given us much attachment to the unicorns before this issue. Seeing them pulled to the front of the plot was exciting. On top of that, unicorns are often portrayed as whimsical and foreign. Rigby gave us a human-like emotion that the readers can relate too. This is a smart choice here. As we near the end of this arc, the tension between Elodie's revenge mission and her relationship with her companions will continue to increase and I am excited to see how it is resolved. 
I admit I wasn't sold on By the Horns when it first came out. It was fun and the setting was cool, but this may be the first issue that makes me excited for the next one. Great work by the creative team! 
Sometimes the tendency with middle issues is for the pacing of the story to feel off. Writers will speed up or slow down the story based on the needs of the publisher and page count. By the Horns #4 doesn't seem to have that problem. They have kept a consistent narrative throughout all four of the issue we have gotten. While it isn't a perfect book, I think this is a safe 5 out of 5 for me. Maybe there are some things I could nitpick, but I'd rather just enjoy the comic that I got. Looking forward to next issue and glad that Scout Comics has decided to make this series ongoing! 
---
Dear Spoilerite,
At Major Spoilers, we strive to create original content that you find interesting and entertaining. Producing, writing, recording, editing, and researching requires significant resources. We pay writers, podcast hosts, and other staff members who work tirelessly to provide you with insights into the comic book, gaming, and pop culture industries. Help us keep MajorSpoilers.com strong. Become a Patron (and our superhero) today.
By the Horns #4 (of 7)
By the Horns #4 provides an action-packed novel that still emphasized character growth within the narrative arc.
User Ratings (

1

Votes)

10