Boba Fett has run into some complications. Can he complete his bounty on Han Solo before Jabba sends a bounty hunter on him? Find out in Star Wars: War of the Bounty Hunter Alpha #1 by Marvel Comics!
STAR WARS: WAR OF THE BOUNTY HUNTERS ALPHA #1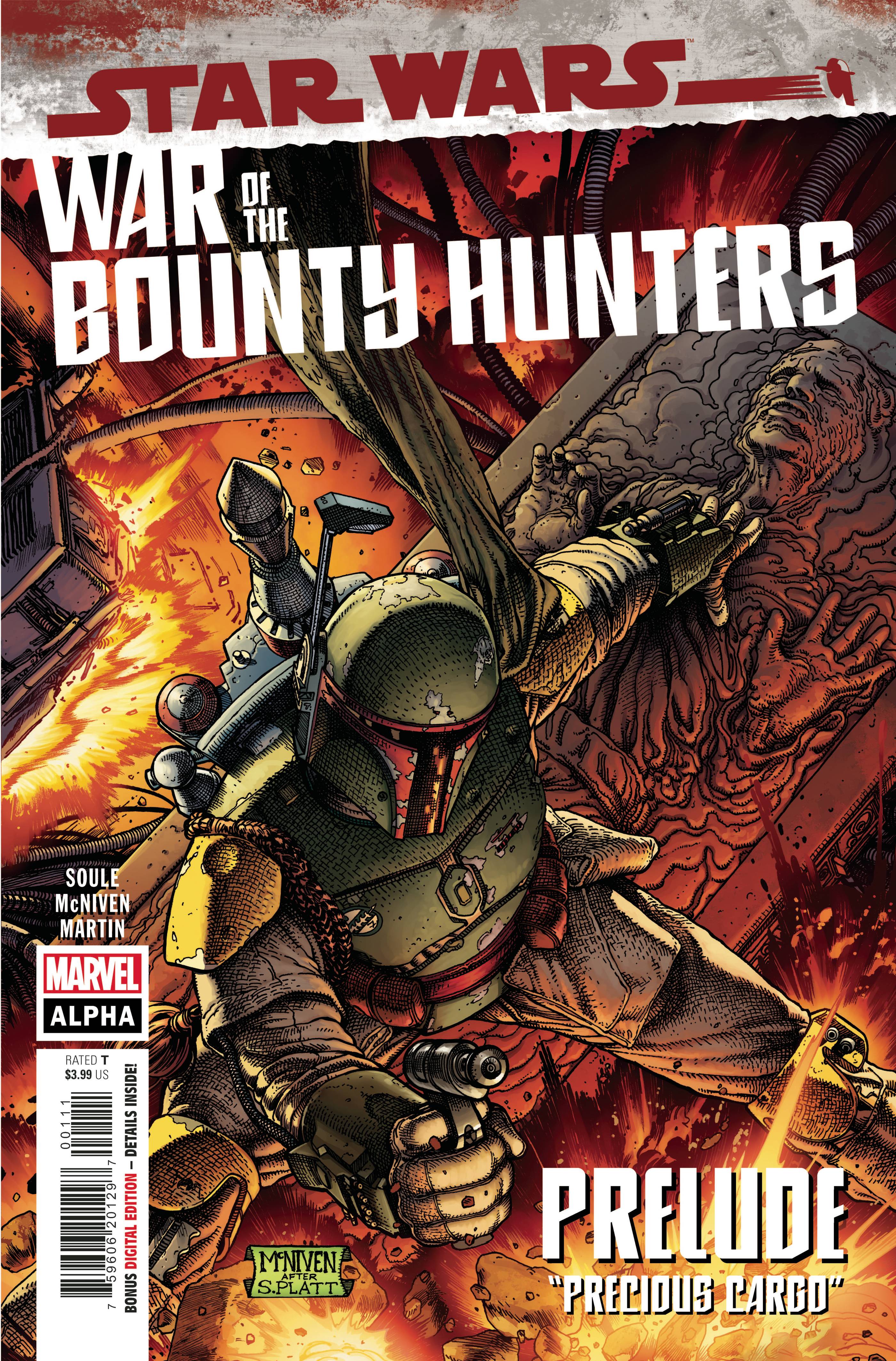 Writer: Charles Soule
Artist: Steve McNiven
Colorist: Laura Martin
Letterer: VC's Travis Lanham
Editor: Robert Simpson
Publisher: Marvel Comics
Cover Price: $3.99
Release Date: May 5th, 2021
Previously in Star Wars: Crossover! Welcome to the prelude of the War of the Bounty Hunters event! This issue takes place when Han Solo was trapped in carbonate and Boba Fett is delivering him to Jabba the Hutt for his pay.
Boba Fett inspects at the carbonite imprisoned Han Solo to realize that there are complications with the carbonite process. Boba heads to Nar Shaddaa to meet with a doctor about fixing the carbonite prison but he doesn't have the credits to pay. The Doc offers him a job instead, to kill Wyrmen Lictor, a champion pit warrior. Boba Fett regrettably goes to fight in the pit. He uses the name Jango and paints his armor black. He wins his fights and begins to climb the ranks until he encounters Wyrmen. Wyrmen looks like a spider creature and shoots a web that catches Boba. However, Boba Fett causes an explosion and squishes the spider. As he tries to collect his money, he makes an enemy of Kanji and forfeits his prize. Additionally, he finds the Doc dead and Han Solo missing!
I don't know how I feel about this issue. It is here to set up a long crossover event over multiple titles and I'm not convince it works for the Star Wars comic universe. In fact, I think I would prefer if this was just a miniseries rather that a huge event. With that being said, I think Boba Fett is an excellent protagonist. There is something about a protagonist where we never get to see their facial expressions that is rather intriguing. This mystery surrounding his body language adds an air of complexity that makes his word choice really important. Which makes him hard to write but interesting to read when he is done right. I'm unsure if I'm going to enjoy this event but I do love Boba Fett as a character!
Boba Fett is a very solid character, and he is a great point of view protagonist to set off this event. While I don't know if I am going to enjoy a big event in Star Wars comic books, I think this is going to be a solid story. 3.5 out of 5 for this one. Really enjoyed the writing here.
---
Dear Spoilerite,
At Major Spoilers, we strive to create original content that you find interesting and entertaining. Producing, writing, recording, editing, and researching requires significant resources. We pay writers, podcast hosts, and other staff members who work tirelessly to provide you with insights into the comic book, gaming, and pop culture industries. Help us keep MajorSpoilers.com strong. Become a Patron (and our superhero) today.
Star Wars: War of the Bounty Hunters Alpha #1 Review
Boba Fett proves to be a great point of view protagonist but I'm unsure about this event as a whole.
User Ratings (

0

Votes)

0