Field Trip! The students of Doctor Strange's school travel to Asgard for a history lesson. Find out more in Strange Academy #10 by Marvel Comics!
STRANGE ACADEMY #10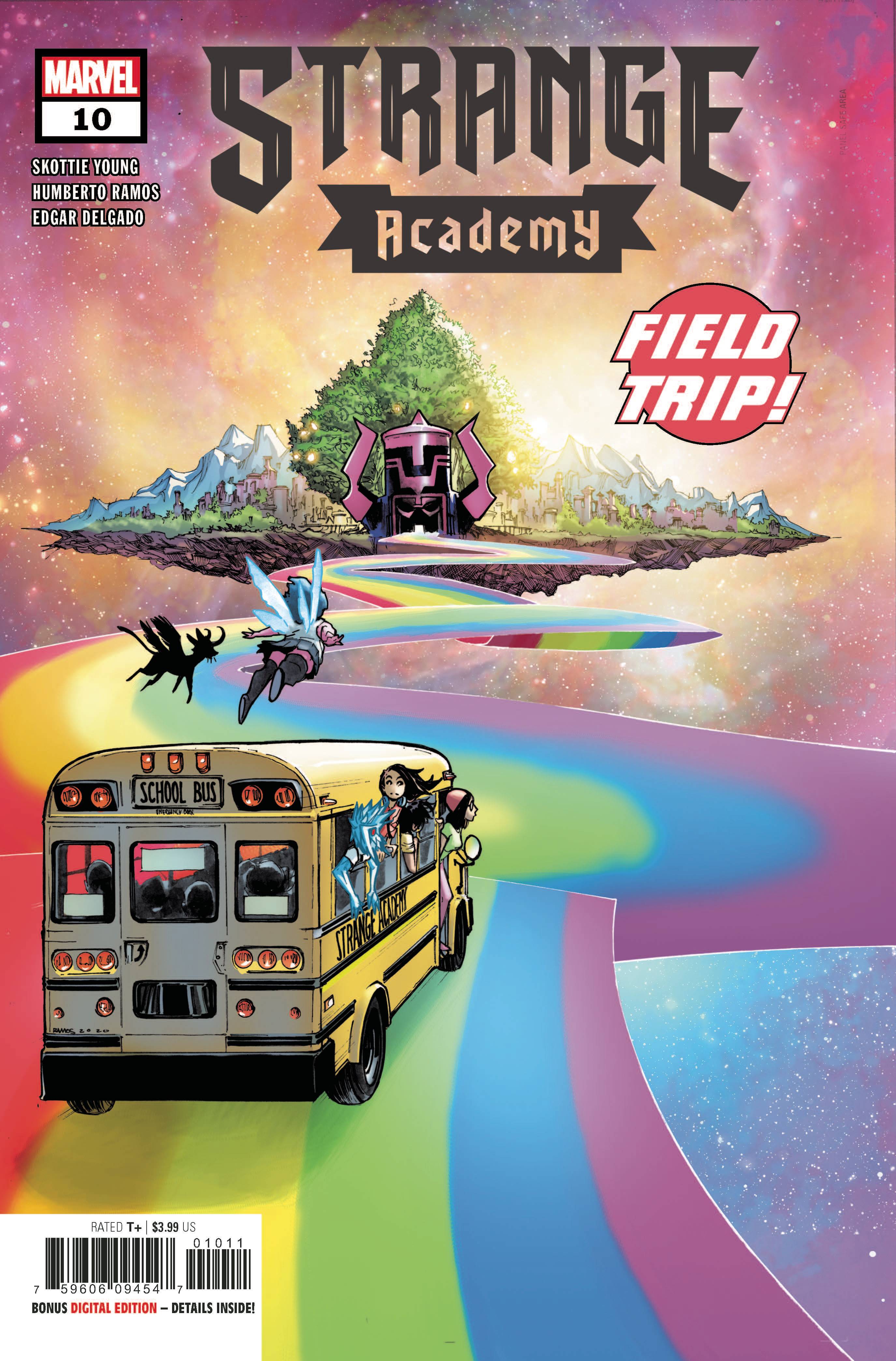 Writer: Skottie Young
Artist: Humberto Ramos
Colorist: Edgar Delgado
Letterer: VC's Clayton Cowles
Editor: Nick Lowe
Publisher: Marvel Comics
Cover Price: $3.99
Release Date: May 5th, 2021
Previously in Strange Academy: Strange Academy takes students from everywhere to train with Doctor Strange in the ways of magic. However, studies haven't been easy for the students and disaster is always on their doorstep. Even though status quo has returned, there is certain to be something in Asgard that catches them off guard.
On the bus to Asgard, Doyle is immediately insulted by Iric because his father is a villain. When they arrive to Asgard, they meet Iric and Alvi's dad and are escorted by Volstagg. Volstagg takes them to the Ram's Den to eat and be merry! Iric runs off and Doyle decides to follow. Iric meets his real mother, who proves to be an imprisoned Enchantress. Doyle calls him out about his mother also being a villain. However, when Emily comes to look for Doyle; Doyle runs interference so Iric can keep his lineage a secret.
Emily takes Doyle and reveals that the rest of her classmates have started a fight at Ram's Den. Deciding not to return to the tavern, Emily and Doyle finally talk about Doyle sacrificing himself for her. And at that moment, they recreate the kiss that brought Doyle back to life.
The last few issues of Strange Academy seems to be dealing with the aftermath of Doyle's death. The students have been going on these mini adventures that deepen their character relationships. This particular issue focuses on Iric and Doyle and foreshadows where they may be in conflict. Not only is there a rivalry between these two for Emily's affection but they both have similar backstories. They have the blood of a villain in their veins. I think the theme of lineage has always been present in Doyle, but it is going to be interesting to see how the writers use Iric and Alvi in their stories. In fact, we seem to be setting up the next arc here.
I love this series. The cast of characters really play well off each other and the direction they are taking the title is engaging. I want to see what happens to these kids and I root and cry for them when they succeed or fail. 4 out of 5 for Strange Academy #10 and looking forward to the next issue.
---
Dear Spoilerite,
At Major Spoilers, we strive to create original content that you find interesting and entertaining. Producing, writing, recording, editing, and researching requires significant resources. We pay writers, podcast hosts, and other staff members who work tirelessly to provide you with insights into the comic book, gaming, and pop culture industries. Help us keep MajorSpoilers.com strong. Become a Patron (and our superhero) today.