Captain Marvel enters the world Clikclok and tries to learn what being a superhero in the digital age means! Find out more in Marvel Action: Captain Marvel #2 by IDW Publishing!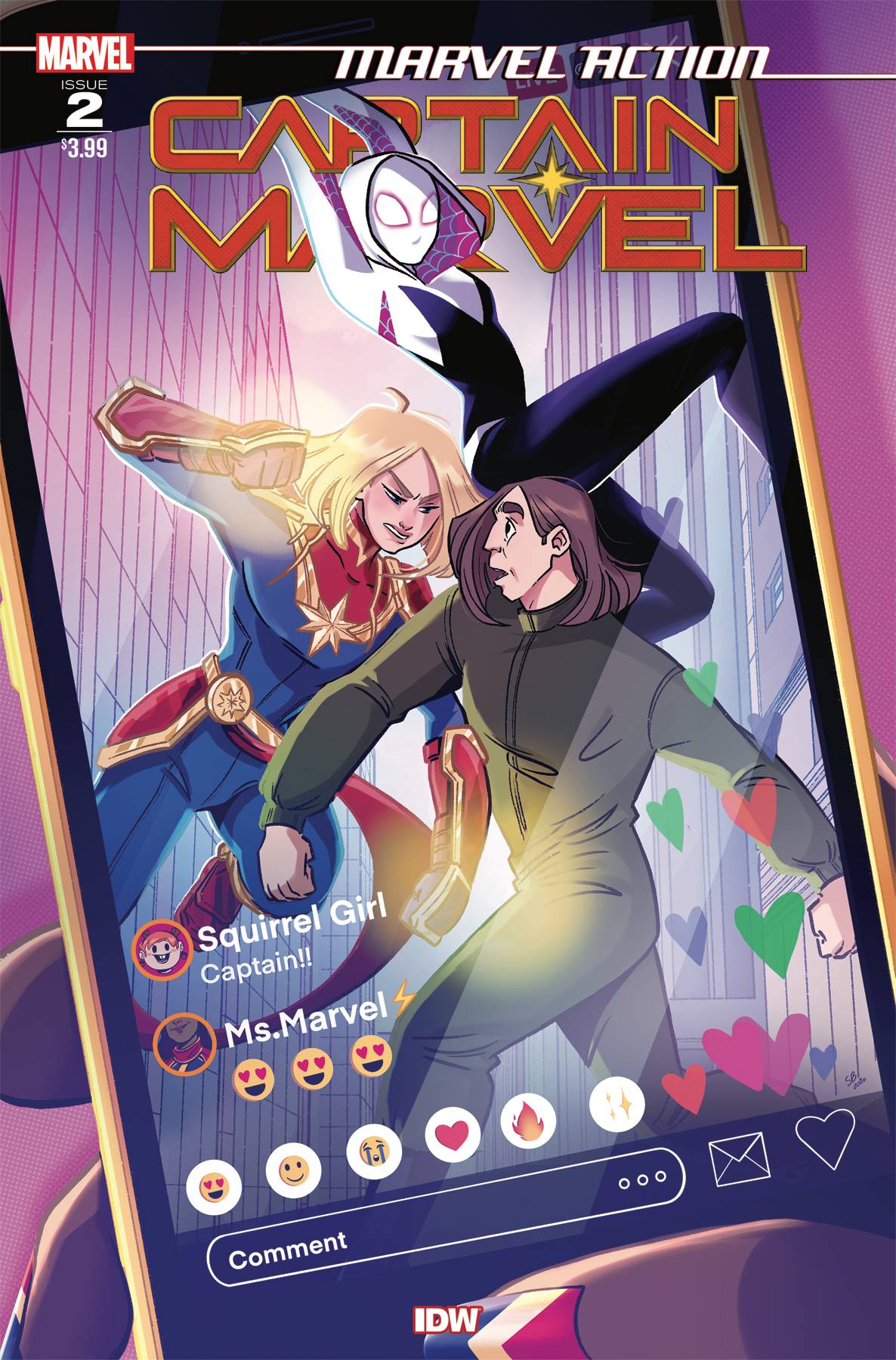 MARVEL ACTION: CAPTAIN MARVEL #2
Writer: Sam Maggs
Artist: Isabel Escalante
Colorist: Heather Breckel
Editor: Megan Brown
Publisher: IDW Publishing
Cover Price: $3.99
Release Date: April 7th, 2021
Previously in Marvel Action: Captain Marvel: Captain Marvel was supposed to take a day off but instead ran into Ghost-Spider. She decides to invite Gwen Stacy into her mentorship program and takes her out to lunch but Gwen is super focused on her social media app called Clikclok. As they head to lunch, they are attacked by the Mad Thinker and his android assistant!
The Mad Thinker and his robotic assistant have mind controlled the citizens of New York via social media! However, the Mad Thinker doesn't know how to work the algorithm or take good selfies while the Assistant knows exactly how to get noticed. The mind controlled crowd begin to do flash mobs and make viral videos and Captain Marvel and Ghost Spider must navigate the crowd to get to the Mad Thinker. Captain Marvel engages with the assistant while Spider-Gwen tries to create an EMP to destroy the Mad Thinker's connection to Clikclok!
Captain Marvel isn't faring well and only is able to defeat the assistant by doing a viral dance that screws with the assistant's computer systems. After that an EMP goes off and frees everyone, Captain Marvel takes away the Mad Thinker's cell phone and sends him off to prison. Meanwhile, Gwen realizes that internet fame isn't the true meaning of being a hero.
You know, there is nothing wrong with a fun comic that doesn't take itself too seriously. I love the Marvel Action line and that it is targeted to younger people. The theme of trying to manage the good work you do and how you balance that with your social media intake is relatable. Even to me as an adult, it helps to have a reminder that you need to stop scrolling through twitter and make sure you actually get something done. What an excellent short series.
The art style is consistent to the other Marvel Action titles. Everything is there and is easily digestible to view because we want to make sure that younger readers get the point. Same with the writing, it sometimes feels that it is pointing out the obvious, but it is doing so intentionally. Very well done making it accessible to a wide age group.
I love the Marvel Action line and I think IDW has been doing a great job introducing people to the wider Marvel Universe. Marvel Action: Captain Marvel #2 is a great book to give a younger reader and a strong recommendation from me. 4.5 out of 5 stars. Looking forward to seeing what Captain Marvel gets stuck dealing with next. 
---
Dear Spoilerite,
At Major Spoilers, we strive to create original content that you find interesting and entertaining. Producing, writing, recording, editing, and researching requires significant resources. We pay writers, podcast hosts, and other staff members who work tirelessly to provide you with insights into the comic book, gaming, and pop culture industries. Help us keep MajorSpoilers.com strong. Become a Patron (and our superhero) today.
Marvel Action: Captain Marvel #2
Captain Marvel #2 shows us an importance of having a balanced life.
User Ratings (

0

Votes)

0