Eve has been taken by The Divinity after searching for a package with Gillings while Gillings searches for stolen cargo. Find out if Eve comes out alive in The Courier: Liberty and Death #3 by Zenescope Entertainment.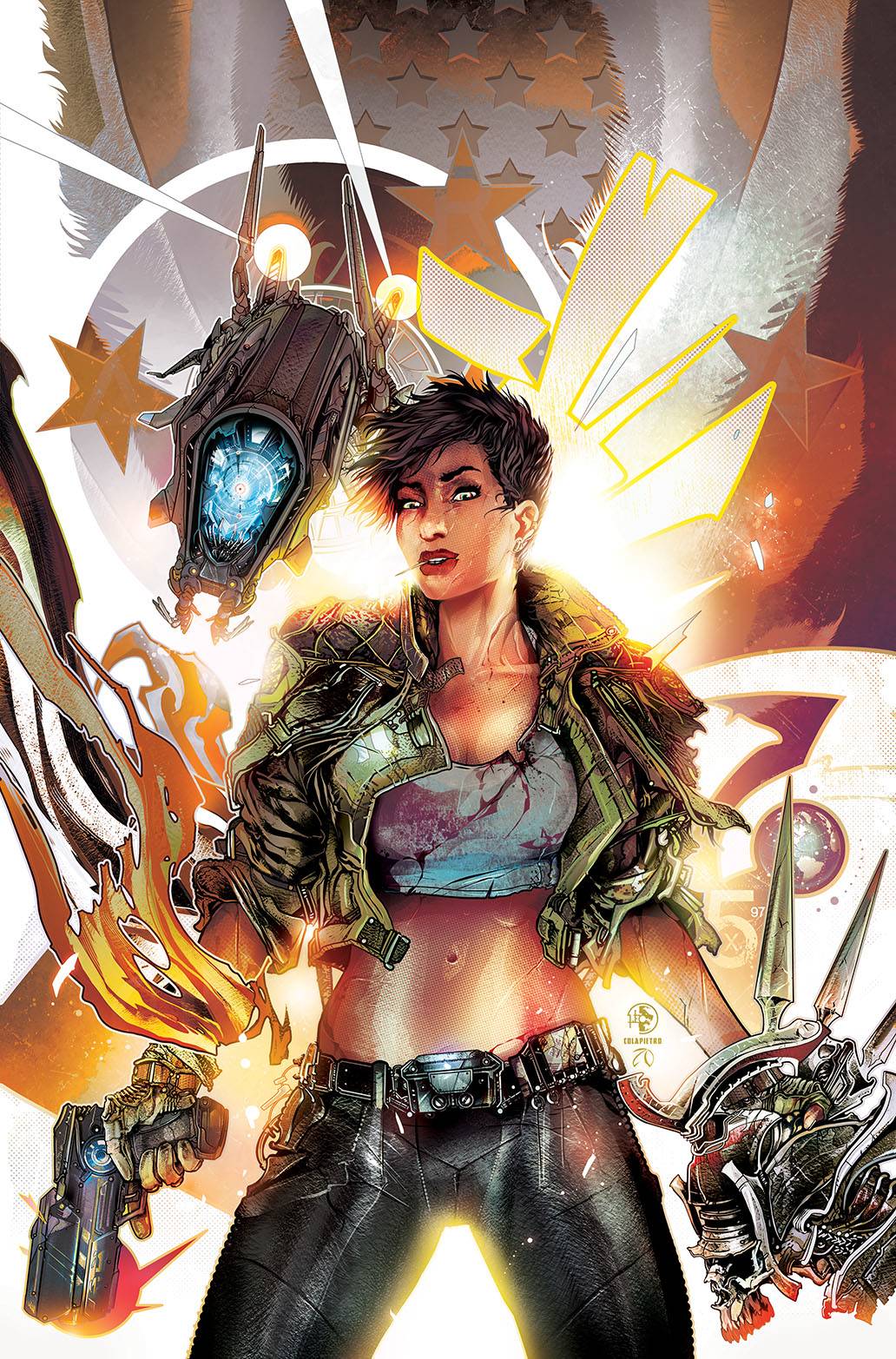 THE COURIER: LIBERTY AND DEATH #3 (OF 3)
Writer: Ralph Tedesco
Artist: Oliver Borges
Colorist: Fran Gamboa and J.C. Ruiz
Letterer: Carlos M. Mangual
Editor: Rachel Bishop
Publisher: Zenescope Entertainment
Cover Price: $5.99
Release Date: March 31st, 2021
Previously in The Courier: Eve has made a deal with Gillings that she will work for him if he keeps his brother safe. Her first task was to go check out a missing shipment that led her to being captured by the Divinity. Eve and her team are going through an "atonement ritual" that has killed everyone but herself and Glen. Meanwhile, the small outpost of Longview are the true thieves who saw an abandoned shipment and saw opportunity. 
Eve and Glen barely survive the atonement ritual with a little help from Eve's drone Artie. As they return to their cell, they turn on their guards and make a daring escaping while taking their leader hostage. Meanwhile, Gillings has discovered his lost truck and discovered that his shipment must be in Longview. In Longview, the people are dealing with an attack by a group of these inhuman mindless monsters. As they prepare for the attack, they initially choose to use bows and other quiet firearms but as the fight progresses, they switch to guns until they run out of ammo. They only have one casualty.
Meanwhile, Glen lost too much blood and is doomed to die. Despite Eve losing her entire team, she leaves The Divinity's leader alive though chained up. She rushes to Longview to try and save the town from Gillings but ends up in a hostage situation. Gillings gives Eve a choice, kill her brother or kill the daughter of Morgan, one of her friends. She lets Gillings shoot her brother and saves the rest of Longview. However, as Gillings leaves, she stabs Eve in the chest leaving her mortally wounded but dreaming of revenge.
The Courier: Liberty and Death #3 is well-paced, and the story beats were there for a successful narrative arc. However, I thought it was going to be predictable until the last sequence. When the tension was at its highest, and Eve had to choose who she was going to save, I thought for sure she would save her brother. From the beginning, she started this whole story arc with the goal to keep her sibling out of trouble. Like, I knew she couldn't let the kid die but I thought she would have been able to somehow save everyone in the situation. It was then I realized that this is more or a prologue to the next arc rather then something self-contained. This sets the tone and plot for the next story arc quite well.
Beyond being caught off guard, the comic art was very vivid and well done. I thought they handle the dark tone of the story without being extremely gruesome. This is a great grimdark comic that really explores intriguing themes. Next arc we are sure to explore PTSD and trauma when the title returns in 2022.
BOTTOM LINE: SOLD BY THE END
I wasn't sure about this series when I first picked it up. In fact, I thought for sure this arc was not going to be my cup of tea. Now I'm sold. The Courier: Liberty and Death #3 is a 5 out of 5 for me and I'm looking forward to the next issue.
---
Dear Spoilerite,
At Major Spoilers, we strive to create original content that you find interesting and entertaining. Producing, writing, recording, editing, and researching requires significant resources. We pay writers, podcast hosts, and other staff members who work tirelessly to provide you with insights into the comic book, gaming, and pop culture industries. Help us keep MajorSpoilers.com strong. Become a Patron (and our superhero) today.
The Courier: Liberty and Death #3
The Courier: Liberty and Death #3 caught me off guard in a brilliant way. Great narrative arc and work from the creative team.
User Ratings (

0

Votes)

0