After getting into some trouble, the orcs are in for a dangerous fight against some squirrels! Check out Orcs #2 by BOOM! Studios and see what this group of troublemakers are up too! 
ORCS #2 (OF 6)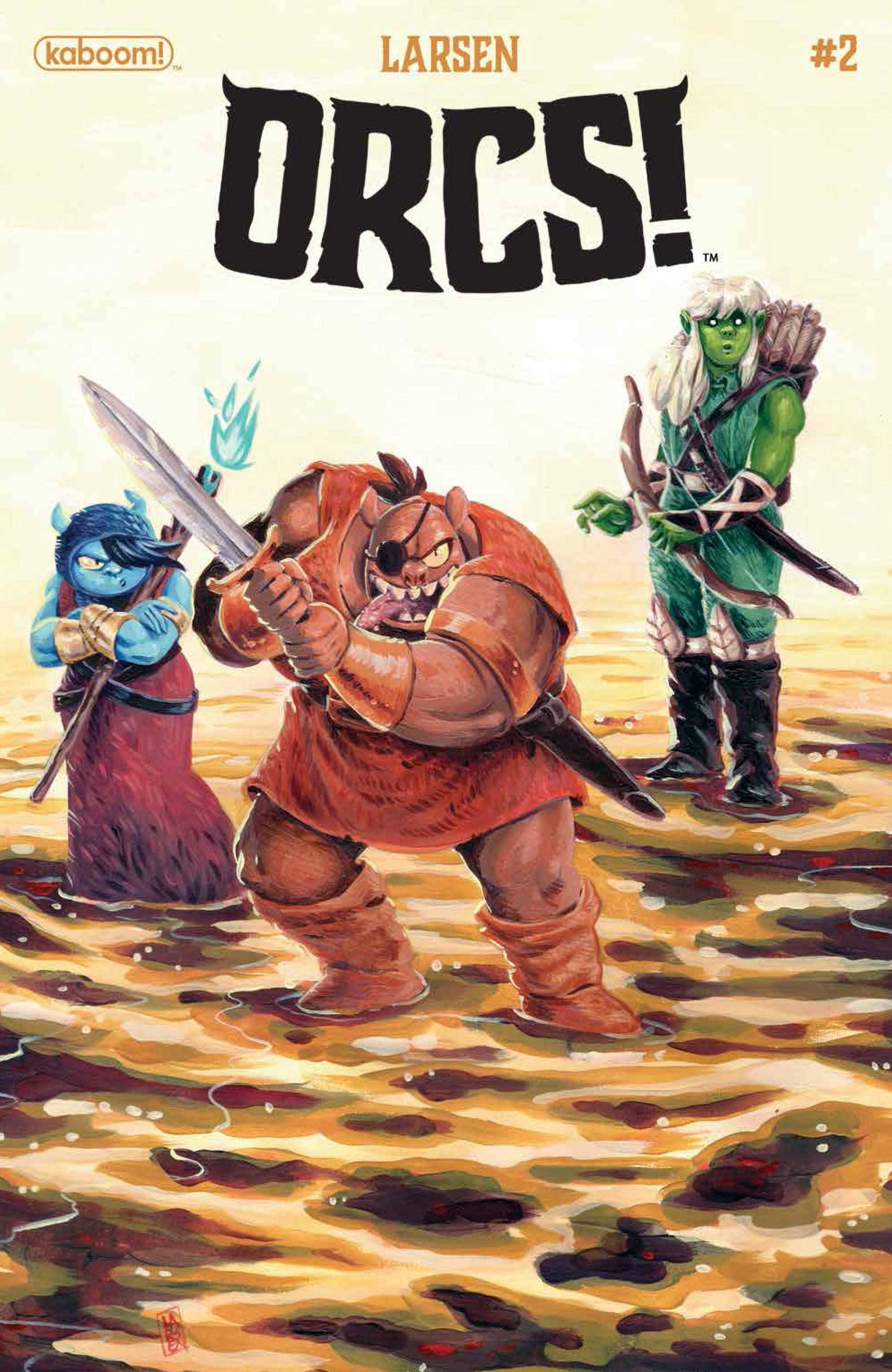 Writer: Christine Larsen
Artist: Christine Larsen
Colorist: Christine Larsen
Letterer: Christine Larsen
Editor: Sophie Philips-Roberts
Publisher: BOOM! Studios
Cover Price: $4.99
Release Date: March 17th, 2021 
Previously in Orcs: Five Orcs have set off on a job and have left their families behind. However, their children are sure to get into a ton of trouble. Following a fool's errand for King Hrogragah, they continue to fight off the fearsome squirrels!
ALWAYS IN TROUBLE
The kids come up with a clever plan to bag the rodents while also taken their treasure of acorns. Realizing that they were sent off for a dumb quest, they return with the squirrels and let them loose in King Hrogragah's home. Additionally, the acorns seem to have gold deep within them, making the orcs rich! After dealing with a broken tooth, King Hrogragah decides to banish the kids because the squirrels are on the Orc's mountain causing trouble. They are allowed one final request, they want to hear the story of Drod, the great hero one more time. We get a glimpse into how Drod first joined Zamma and Wendy, but it sleeps this is just a guise for the kids to send their pet off on a secret adventure.
THIS ONE WAS TOUGH FOR ME
Orcs is fun with a ton of tongue and cheek humor. I struggled keeping track of everything. It has been a while since I read the first issue and I'll be frank that I didn't remember anyone's name. Not that it really seems to matter but I really only got a superficial read of the story. It is almost easier to view the children as one main character rather than a full cast of characters. This is something I would hand to a kid to read and might get a lot more fun out of this than I would. It is full of charm and the story seems to be about underdogs. Good ideas here and an enjoyable art style. I do believe that this would read better in a trade then as a monthly issue for adults. 
BOTTOM LINE: NOT FOR ME
This is a great story with a lot of great ideas, but I found myself lost a little bit. While I may have been confused, the story is still interesting, funny, and light hearted. 3.5 out of 5 for this story. I think this would do great in the hands of a younger reader. 
---
Dear Spoilerite,
At Major Spoilers, we strive to create original content that you find interesting and entertaining. Producing, writing, recording, editing, and researching requires significant resources. We pay writers, podcast hosts, and other staff members who work tirelessly to provide you with insights into the comic book, gaming, and pop culture industries. Help us keep MajorSpoilers.com strong. Become a Patron (and our superhero) today.
Orcs #2 (of 6)
Orcs is a great book that is designed for young readers. If you enjoy tongue and cheek humor then pick this book up!
User Ratings (

0

Votes)

0