Emperor Hulkling and Court Wizard Wiccan are on their honeymoon! However, Knull the King in Black is brewing trouble for them. Find out more in King in Black: Hulkling and Wiccan #1 by Marvel Comics.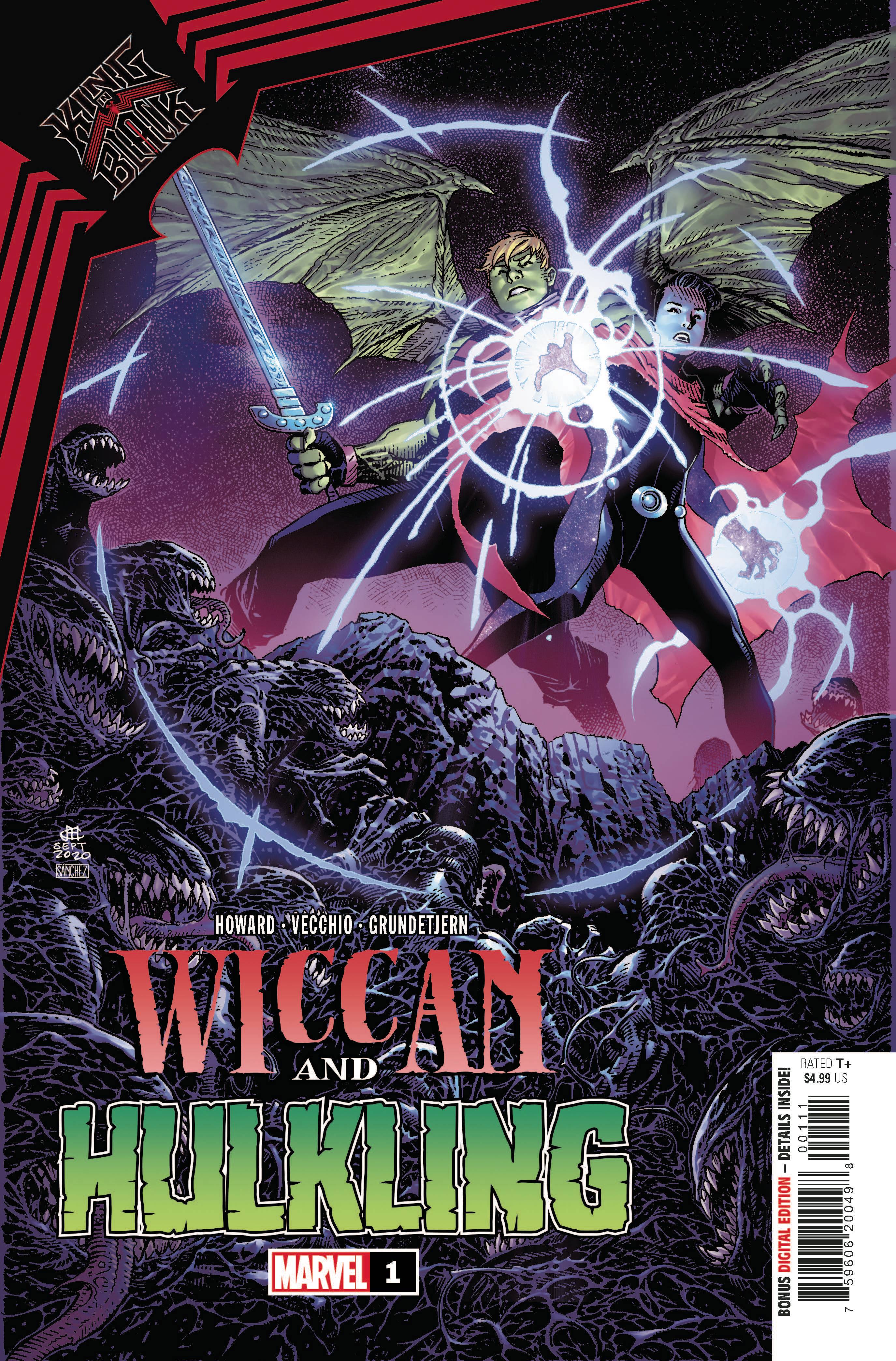 KING IN BLACK: WICCAN AND HULKLING #1
Writer: Tini Howard
Artist: Luciano Vecchio
Colorist: Espen Grundetjern
Letterer: VC's Ariana Maher
Editor: Wil Moss and Sarah Brunstad
Publisher: Marvel Comics
Cover Price: $4.99
Release Date: March 3rd, 2021
Previously in King in Black: Knull has invaded Earth but his goal is the entire universe! He has targeted the Emperor of the new Skull-Kree Alliance. Hulking and Wiccan are unaware of any dangers and have gone on their honeymoon! 
BEACH EPISODE?
Hulkling and Wiccan are holding court and doing the boring day-to-day tasks of ruling an empire. However, they receive a visitor from the Shi'ar Empire who offers them a week's vacation on the beaches of the Shi'ar home world! They travel to the shores of Little Chandilar with Lauri-Ell escorting them. On their first day though, the beaches are attacked by symbiote dragons!
Wiccan and Hulking prepare for a fight against these dragons, unaware of what is going on, and realize that the staff in this resort are critically unprepared for disaster. They develop a plan to rescue all the people on this beach but not before they are attacked by Venoms! Not only that, but these Venoms are people of the Kree-Skrull empire who have gone missing! Instead of destroying them, Wiccan uses light magic to repel the darkness. They are then able to rescue their people, the people on the resort town, and get everyone to safety.
PROVING YOUR WORTH
This story was very sweet! Whenever I see these major crossover events, I fear that a title is going to put more emphasis on the story than the characters. But here, the spotlight is very clearly on Hulking and Wiccan's relationship. Watching them navigate through a ruined honeymoon by supporting and having trust in each other is incredibly endearing. Not only that, but Hulkling continues to prove his leadership abilities by coming up with a daring plan and continually gaining the loyalty of his subjects. This is quite a pleasant title in the King in Black event. While it doesn't impact the main story very much, it gives us a good glimpse on how these two characters are doing after their wedding.
BOTTOM LINE: SOLID TITLE
I really enjoyed this. It was a nice read that supplied a lot of context on what these two characters are doing after the Cotati event. It also nice to see two people in love and supporting each other. This one is a 4.5 out of 5 for me. I understand that it doesn't have a lot of bearing on the main event and their isn't a lot of thematic depth to it but it is a dang good love story.
---
Dear Spoilerite,
At Major Spoilers, we strive to create original content that you find interesting and entertaining. Producing, writing, recording, editing, and researching requires significant resources. We pay writers, podcast hosts, and other staff members who work tirelessly to provide you with insights into the comic book, gaming, and pop culture industries. Help us keep MajorSpoilers.com strong. Become a Patron (and our superhero) today.
King in Black: Wiccan and Hulkling #1
This title gives us a glimpse on how Wiccan and Hulkling's love is blossoming after their wedding.
User Ratings (

0

Votes)

0