Marvel's black heroes are being featured in this action packed special! Come see new and established writers take on some of the best heroes in Marvel Voices: Legacy #1 by Marvel Comics! 
MARVEL VOICES: LEGACY #1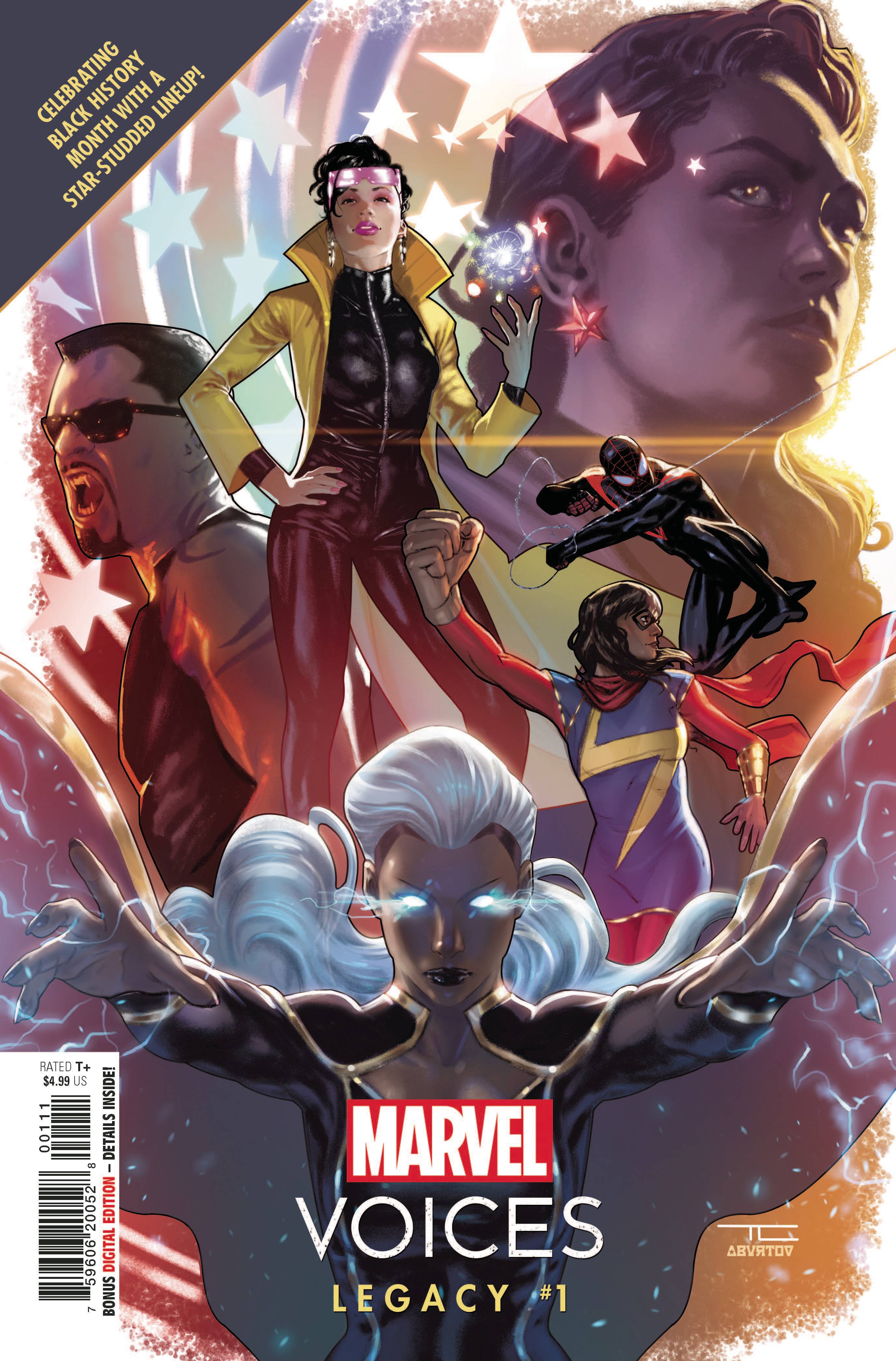 Writer: John Ridley, Tochi Onyebuchi, Nnadis Okorafor, Mohale Mashigo, Stephanie Williams, and Danny Lore
Artist: Olivier Coipel, Ken Lashley, Chriscross, Chris Allen, Natacha Bustos, and Valentine De Landro
Colorist: Laura Martin, Juan Fernandez, Rachelle Rosenberg, and Dan Brown
Letterer: VC's Travis Lanham
Editor: Sarah Brunstad and Wil Moss
Publisher: Marvel Comics
Cover Price: $4.99
Release Date: February 24th, 2021 
Previously in Marvel Voices: Marvel has an assortment of heroes that have inspired a new generation of readers. Come check out Miles Morales, Ironheart, Spectrum, Blade, Domino, and more in this anthology series.
A GLIMPSE IN THEIR LIVES
The anthology features a lot of short glimpses into the lives of many of our favorite heroes. From Miles Morales trying to navigate high school and being a hero to Ironheart having a decompression session with Shuri and Khamla Khan. Domino was caught in a poker leading to a gun fight to get vengeance on a little girl who was killed in a crossfire. Additionally, the creative team included a short story about what Nigerian heroes were up to during the "End SARS" movement. 
REPRESENTATION MATTERS
The book opened up with a couple of pages written by Nic Stone. Stone mentioned a story that her kids were playing pretend as Miles Morales and Falcon. She as a kid, only had Storm to look up to in comics. Seeing these heroes on the page and giving a new generation heroes that are who are similar to them is critical. I know the first time I saw certain Chinese characters, I was in awe to see someone who was similar to my ethnicity and family. These characters are incredibly engaging even though we only see short glimpses into these characters lives. Many times, people give anthologies and single issue content a pass but I really think all these stories can inspire. This is going to be a great comic to pick up and give to a new reader. They can get an idea of who some of these new characters are that they may not be familiar with yet.
BOTTOM LINE: GIVE IT A SHOT
Anthologies gives us a chance to see some of our favorite heroes away from their main titles. For some people, this may be a skip because anthologies don't have the depth you may want from the comics. But this one is done very well, it shows them being heroes and how they act in their everyday lives. 4.5 out of 5 for this anthology from me. I think they did a stellar job giving representation where it is due.
---
Dear Spoilerite,
At Major Spoilers, we strive to create original content that you find interesting and entertaining. Producing, writing, recording, editing, and researching requires significant resources. We pay writers, podcast hosts, and other staff members who work tirelessly to provide you with insights into the comic book, gaming, and pop culture industries. Help us keep MajorSpoilers.com strong. Become a Patron (and our superhero) today.