Michael Morbius reminds himself of his desperate action that led him to his first kill. Now with that guilt on his conscious, he scours the streets looking for his next victim. Find out more in Morbius: Bond of Blood #1 by Marvel Comics! 
MORBIUS: BOND OF BLOOD #1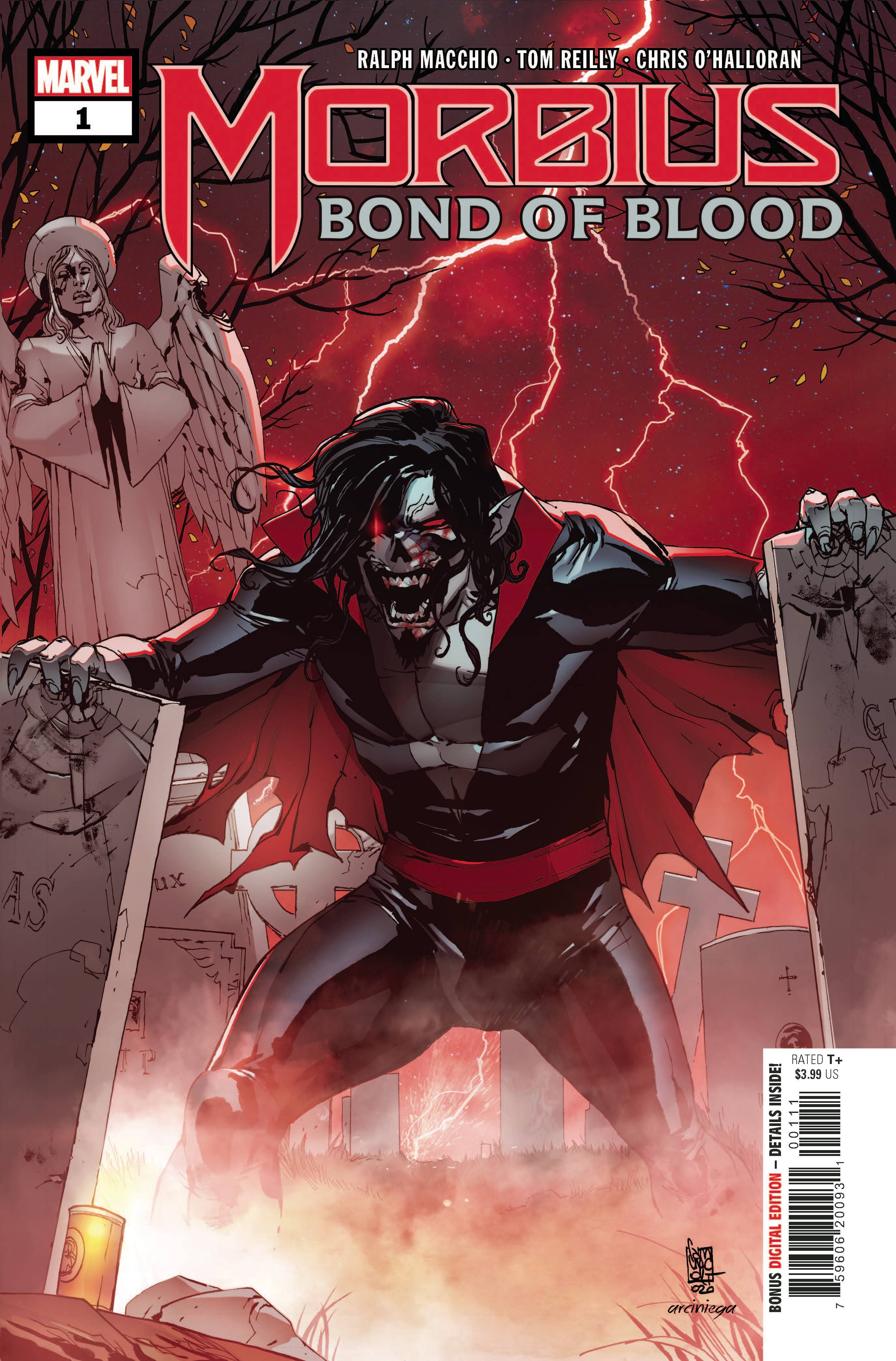 Writer: Ralph Macchio
Artist: Tom Reilly
Colorist: Chris O'Halloran
Letterer: VC's Ariana Maher
Editor: Danny Khazem
Publisher: Marvel Comics
Cover Price: $3.99
Release Date: February 10th, 2021 
Previously in Morbius: Morbius was dealing with a rare blood disease that forced him to try an experimental procedure of his creation. This procedure causes him to turn into Morbius, The Living Vampire! With this new condition, he has a hunger that can only be sated by human blood and he wanders the streets only feeding on people who deserve it.
TRICKED
Michael and his partner Emil created an electroshock procedure to cure Morbius of his disease. Taking a yacht out to international water, he undergoes this dangerous experiment. It works, but it turns Michael into a dangerous man who accidently kills Emil to handle his bloodlust. To prevent himself from feeding off of his lover, he jumps ship to kill himself. At the last moment, he clings to life and returns back to New York to look after Emil's child, Christos. Christos is very sick and the only person who may have a cure is Zabo.
Meeting with Zabo he offers Morbius a choice, he will supply the cure if he steals his notes on the Mr. Hyde serum from the Ravenloft Institute. After a brief visit to the mental facility, he gets the vaccine and gives it to Christos. Unfortunately, it was a lie, and Cristos dies after forgiving Michael for the death of his father. Morbius runs back to Zabo, who has taken the Hyde serum, and they fight. After sucking a bit of Zabo's blood, he leaves him for the police.
ANOTHER ORIGIN STORY
I was hoping for something else when I saw this title. I wanted a new modern re-imagining of the origin. When I opened the page, the artwork seemed to be in a different and older style then what Marvel is currently creating. On top of that, the stories narrative arc also felt a little old. Michael made a mistake, he tries to fix the mistake, and ultimately has a lot to learn about managing his power. Which strikes me as odd, I remember an earlier Morbius story in 2019 that read a lot better than this. I wanted a story in that style.
But besides my gripes, let's look at what the story did do. It shows us the origin of Morbius and what his character is all about. He has a kind heart but is afflicted with a bloodthirst that must be sated. Unfortunately, we tried to get through all these story beats in a single issue and everything felt very rushed. We didn't get much of a chance to establish a relationship with Emil, and therefore his death didn't mean as much to us as it meant to the character. Same with Christos, his death felt like a plot point then anything meaningful. Which is disappointing.
BOTTOM LINE: THIS IS A SKIP FOR ME
Now this is a one-shot adventure. Morbius has had good titles in the past, and it probably have good titles in the future. This one however can be skipped. 2 out of 5 from me. This may be an origin story but there are certainly better jumping on points. 
---
Dear Spoilerite,
At Major Spoilers, we strive to create original content that you find interesting and entertaining. Producing, writing, recording, editing, and researching requires significant resources. We pay writers, podcast hosts, and other staff members who work tirelessly to provide you with insights into the comic book, gaming, and pop culture industries. Help us keep MajorSpoilers.com strong. Become a Patron (and our superhero) today.
Morbius: Bond of Blood #1
Morbius is a dynamic character that deserves dynamic plots. This particular issue isn't it.
User Ratings (

2

Votes)

1.3