Knull, the God of the Symbiotes, is on earth and this forces the strangest of alliances. Will Iron Man and Doctor Doom be able to come up with a plan to save Earth? Find out in King in Black: Iron Man Doctor Doom #1 by Marvel Comics! 
KING IN BLACK: IRON MAN DOCTOR DOOM #1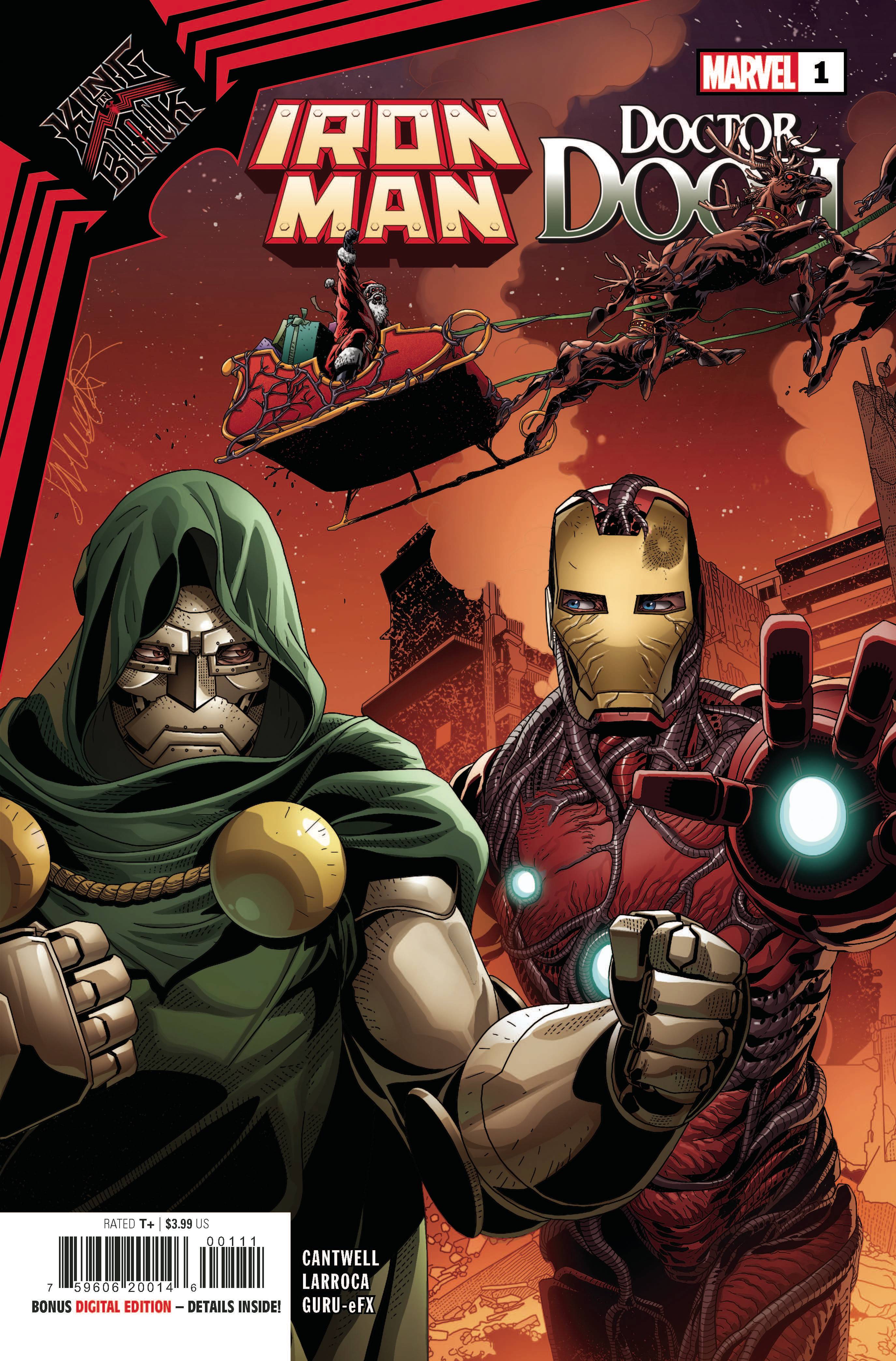 Writer: Christopher Cantwell
Artist: Salvador Larroca
Colorist: Guru-eFX
Letterer: VC's Travis Lanham
Editor: Tom Brevoort
Publisher: Marvel Comics
Cover Price: $3.99
Release Date: December 30th, 2020
Previously in King in Black: Iron Man had a daring plan to defeat Knull. He was able to create an updated version of his armor by combining his tech with a symbiote but at the cost of Eddie Brock's life. Now Doctor Doom is here to supply some counsel, but he always has an ulterior motive.
HOLIDAY CHEER
Iron Man is distraught over the death of Eddie Brock. He blames himself for his death so he can obtain a small sliver of symbiote. Stark is joined by Doctor Doom but before they can talk, they see someone up in the sky. This man is a symbiote controlled Santa led by a group of reindeer and singing parodies of Christmas songs. Iron Man and Doctor Doom work together to try and defeat him but he seems nearly invulnerable. Stark was able to use his new symbiote infused armor to break off the symbiote's control of Santa. In reality, this man was Mike Dunwoody, the owner of Snow Globe Holiday Decoration Supply. Now that Doom and Stark realizes their armor can harm symbiotes but save the people they process they can now fight back against Knull.
HOLIDAY SPECIAL?
This book came out a week after Christmas and I imagine it was supposed to come out earlier. This issue talked about serious trauma within the King in Black event and downplayed it by introducing a Santa singing carols like "Jingle Kill." I wish they would have committed to being a serious comic or a Christmas comic rather than a combination of both. You can combine comics genres and incorporate a holiday special into your story, but this had two completely different tones. The redeeming quality for me was the artwork. Seeing the interpretation of Iron Man's new suit in the King in Black style is super cool on the comic page.
BOTTOM LINE: DOES NOT MESH WELL
There are enough themes going on here where the story could have been two separate comics. But because they decided to go with one, it just couldn't work. If you wanted a symbiote Santa, then you need to match the overall theme of the grief of Tony Stark. Without it, it just seems like a comic that doesn't have a strong identity. 3.5 out of 5 stars for this. Loved the art, but the writing didn't work for me.
---
Dear Spoilerite,
At Major Spoilers, we strive to create original content that you find interesting and entertaining. Producing, writing, recording, editing, and researching requires significant resources. We pay writers, podcast hosts, and other staff members who work tirelessly to provide you with insights into the comic book, gaming, and pop culture industries. Help us keep MajorSpoilers.com strong. Become a Patron (and our superhero) today.
King in Black: Iron Man Doctor Doom #1
The theme of an evil Santa did not mesh well with Tony Stark trying to overcome his grief over the death of Eddie Brock.
User Ratings (

0

Votes)

0