Sunstar never knew his parents. What could have driven them to send their son to earth to become roommates with Jesus? Find out in Second Coming: Only Begotten Son #1 by Ahoy Comics!
SECOND COMING: ONLY BEGOTTEN SON #1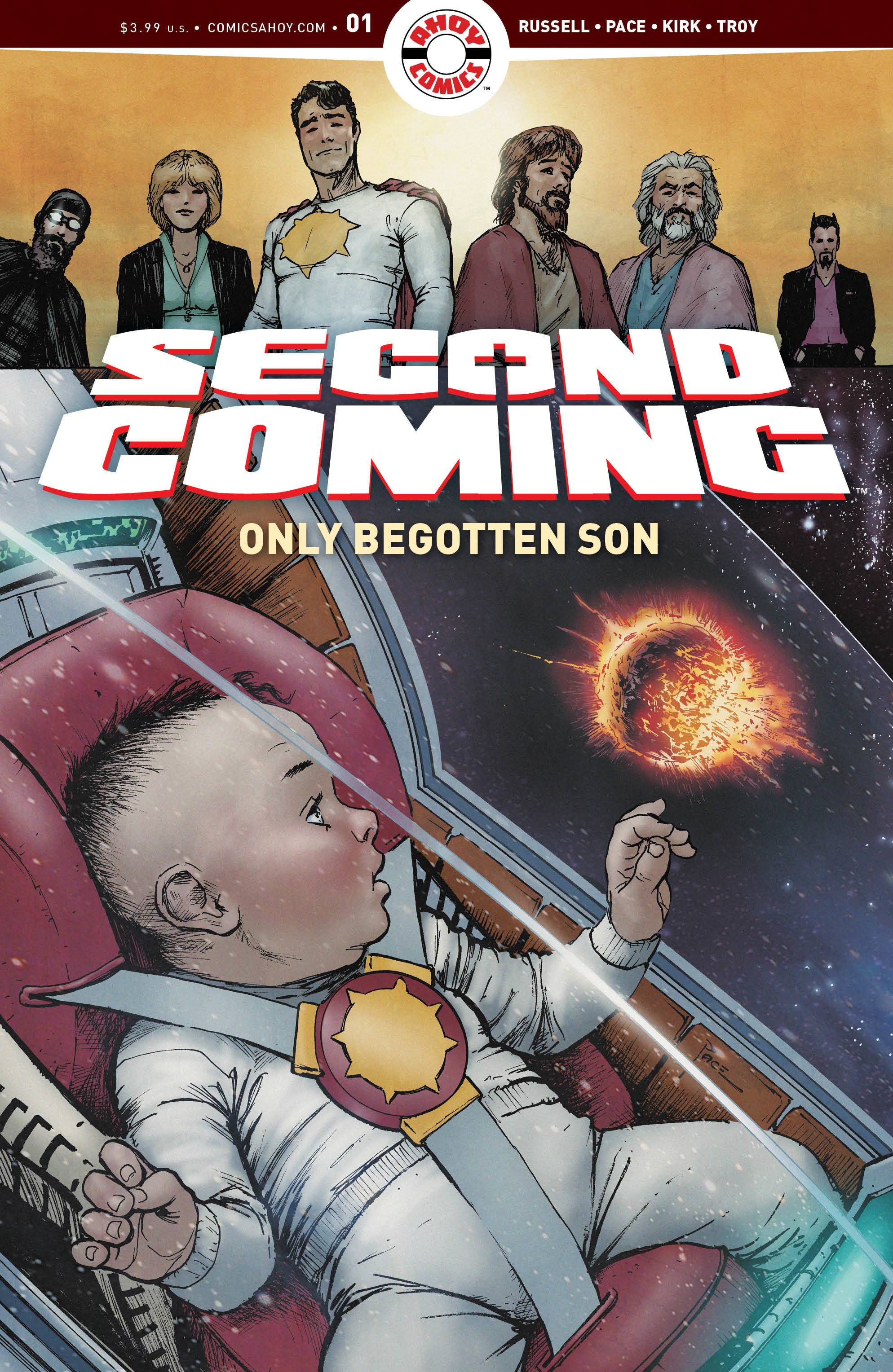 Writer: Mark Russell
Artist: Richard Pace
Colorist: Richard Pace
Letterer: Rob Steen
Editor: Tom Peyer
Publisher: Ahoy Comics
Cover Price: $3.99
Release Date: December 16th, 2020
Previously in Second Coming: God has sent Sunstar to Earth to teach Jesus to use his powers. On Earth, Sunstar is a hero and married to Sheila but his alien heritage means they are not able to conceive. After helping Jesus defeat an enemy. God has granted Sunstar and Sheila a miracle pregnancy.
TOTALLY NOT SUPERMAN
Sunstar's father Voldor has received news that planet Zirconia is going to blow up. The mining of crystals beneath the surface's core has caused enough damage for the planet to explode. He returns home to spend time with his wife, Zoldana, and Sunstar. Unfortunately, they have dinner with Gordo and Vera, a timeshare guy with big spending habits. During the dinner, Gordo tries to get Voldor to buy a timeshare which causes an angry reaction. After kicking them out of the house, Voldor opts to send his son to Earth while he shares one last moment with his wife. In the present day, Sunstar prepares to have a kid and ponders about his own parents.
MATERIALISM IS KILLING US
The message here is pretty clear to me. Materialism destroyed Superman… I mean Sunstar's planet. If it wasn't for the desire to have all these crystals for décor, they planet could have thrived. Which wasn't subtly presented but rather brazen. Even though the comic was present in a comedic way, the themes were fairly grim. We are talking about the death of a people. On top of that, we have to see people who could have prevented the world's destruction having to live with that guilt in their last moments. What a unique exposition to a rather odd comic and an odd theme. With solid consistent art, a well written story, and a unique idea; this series is sure to be a success.
BOTTOM LINE: IT'S GOOD BUT NICHE
I enjoyed this comic tremendously. It was easy to understand, the themes were present and impactful, and the characters were relatable. On top of that, I'm unsure what is going to happen next. You can do so much with Jesus Christ and a Superman analog as your protagonists. I love these ideas because I never would have thought of it. 4 out of 5 for me. My only complaint is that we didn't get a little more of a hook for the next comic. Unless it is strictly on Sunstar having a kid, which I doubt is the direction the story is going to end up long term.
---
Dear Spoilerite,
At Major Spoilers, we strive to create original content that you find interesting and entertaining. Producing, writing, recording, editing, and researching requires significant resources. We pay writers, podcast hosts, and other staff members who work tirelessly to provide you with insights into the comic book, gaming, and pop culture industries. Help us keep MajorSpoilers.com strong. Become a Patron (and our superhero) today.
Second Coming: Only Begotten Son #1
Sunstar is about to have a kid gifted to him by capital G God. His introspective of trying to figure out his own parents is impactful and grim despite the comedic tone.
User Ratings (

0

Votes)

0