Nadia has had to deal with a lot of trauma in her job. However nothing competes with the trauma of helping a client who killed her former team. Find out more in Cyberpunk 2077: Trauma Team #4 by Dark Horse Comics!
CYBERPUNK 2077: TRAUMA TEAM #4 (OF 4)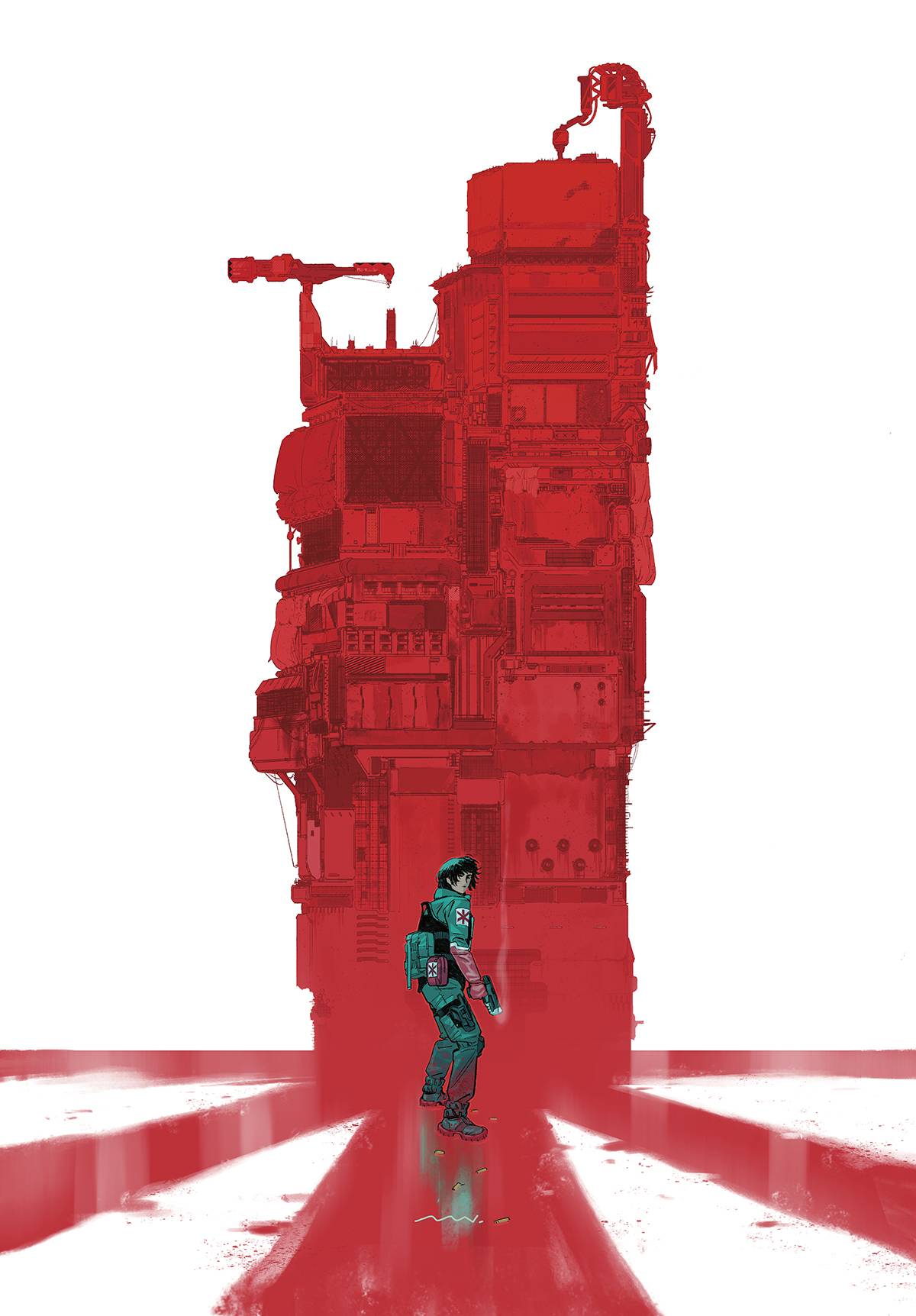 Writer: Cullen Bunn
Artist: Miguel Valderrama
Colorist: Jason Wordie
Letterer: Frank Cvetkovic
Editor: Megan Walker
Publisher: Dark Horse Comics
Cover Price: $3.99
Release Date: December 16th, 2020
Previously in Cyberpunk 2077: Nadia is here to save Apex, a cyborg who killed her previous trauma team. Now surrounded by a horde of gang members, they can only survive if they work together. But Nadia can't forgive him for killing her past team and the decision of what she wants to do causes her to freeze.
NEVER FORGET
Nadia, Apex, and Stratter are the only people still alive on this mission. Nadia is having visions and memories of her old team throughout the issue trying to help her cope with working for Apex. Luckily the team is able to escape the apartment building. Stratter says that Nadia is done once they finish the mission and that she wasn't ready to go back into the field. This prompts Apex to simply kill him as a "favor" to Nadia. As they run, they are attacked by another cyborg and Apex is unable to kill him but is saved by Nadia. Another trauma team is able to extract them safely but as Apex's back is turned, Nadia aims her pistol at Apex. Then she fires.
UNABLE TO COPE WITH THE TRAUMA
I think this ending was very intelligent. Apex was not a good man. It is clear that he is a killer and that the trauma teams were helping a killer. All because Apex pays for a service. He reminds us that he is a "Platinum" member, telling the reader why he is being helped in the first place. It was not going to feel good if Apex survived in a book filled with death. Which may have been the point of the story to be honest. The story is meant to be jarring and tell us details about the setting. It would show us that life is not fair. But having Nadia kill him gives us a sense of justice but still shows how unfair the setting is.  And I think this idea was masterfully written.
BOTTOM LINE: GREAT ENDING
I was a little skeptical of this book. I usually don't like adaptations from one medium to comic books because it never focuses on a main plot point. However, this did a really good job giving us a glimpse into the world and shows the tone of what the setting is about. Now despite some of the news we are hearing about the video game; this book is well written. 4 out of 5 stars for this book. Glad to have picked up this short series.
---
Dear Spoilerite,
At Major Spoilers, we strive to create original content that you find interesting and entertaining. Producing, writing, recording, editing, and researching requires significant resources. We pay writers, podcast hosts, and other staff members who work tirelessly to provide you with insights into the comic book, gaming, and pop culture industries. Help us keep MajorSpoilers.com strong. Become a Patron (and our superhero) today.
Cyberpunk 2077: Trauma Team
Nadia's decision at the end of the story sets up what the world of Cyberpunk is all about. It is gritty and it is unfair.
User Ratings (

0

Votes)

0