Robyn Hood is hunted by law enforcement but she knows who the real villain is. She puts out a daring plan to take down Mayor Nyguen in Robyn Hood: Justice #6 by Zenescope Entertainment!
ROBYN HOOD: JUSTICE #6 (OF 6)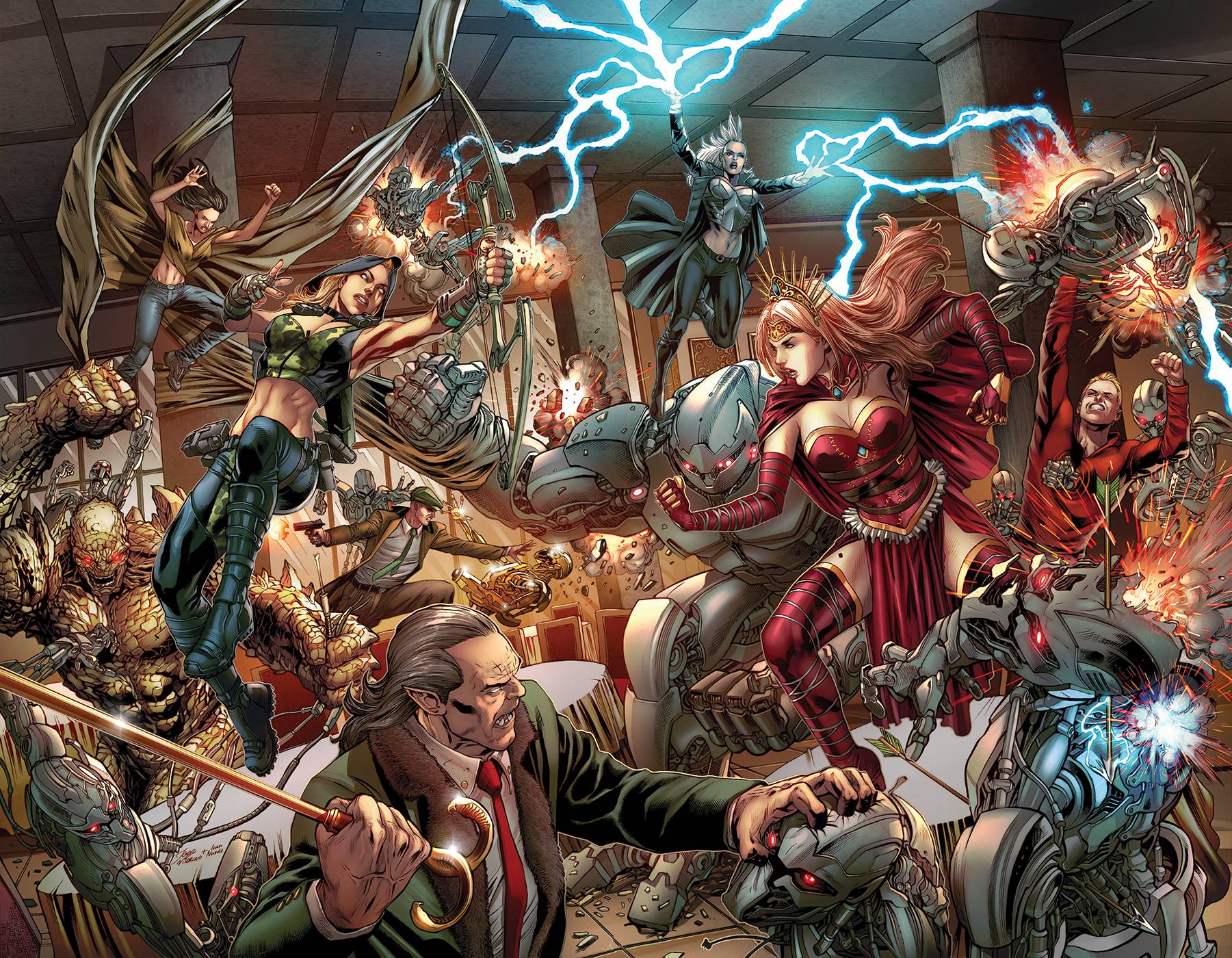 Writer: Chuck Dixon
Artist: Babisu Kourtis
Colorist: Juan Manuel Rodriguez
Letterer: Taylor Esposito
Editor: Kellie Supplee
Publisher: Zenescope Entertainment
Cover Price: $3.99
Release Date: December 9th, 2020
Previously in Robyn Hood: Robyn Hood was falsely accused of a crime she didn't commit. Now on the run, she is hunted by law enforcement and new police automatons. However, she uncovered a deadly conspiracy where the Mayor has cops, politicians, and many others under her magical thrall. 
VIGILANTE JUSTICE
Robyn Hood and Emily arrive at the city's gala to execute the mayor. Without hesitation, Robyn jumps down and begins to engage with law enforcement and robots trying to get to her target. Emily however provides two saves. One she is able to use her cloak to cause Robyn Hood and a handful of cops to vanish for a moment. Then she uses her abilities to bring in the underground as backup. Robyn Hood now has the mayor in a corner but Mayor Nyguen takes a cop hostage and threatens to kill everyone she has mind controlled with a simple snap of the fingers. Unfortunately for her, an arrow is faster than her hand and she dies with an arrow through her skull. Robyn and her team run away where they are able to make a new home for the underground.
NOT SURE ABOUT THIS ENDING
The theme for this arc was to prove innocence… or so I thought. Instead, we concluded that justice, in the form of murder, was more important than proving you are innocent. Which left a sour taste in the back of my throat. The action and art are impeccable. The creative team created a dynamic character who could do dynamic things. I just wasn't sure I appreciated the message from the story. This doesn't take away from the quality of the book but it certainly doesn't make Robyn Hood a protagonist I want to root for. However, this underground of magical creatures now has the figure to look up too. Perhaps that is the best message we can take from this.
BOTTOM LINE: WELL CREATED
Robyn Hood is a solid character that is forced into a bad situation. The city turned on her despite being an overall positive force. Even though the ending still has her hunted for the police for a very public murder; there is still hope on the horizon. Hope that perhaps everything will be okay. 4 out of 5 stars from me. I wonder if the next chapter will prove her innocence.
---
Dear Spoilerite,
At Major Spoilers, we strive to create original content that you find interesting and entertaining. Producing, writing, recording, editing, and researching requires significant resources. We pay writers, podcast hosts, and other staff members who work tirelessly to provide you with insights into the comic book, gaming, and pop culture industries. Help us keep MajorSpoilers.com strong. Become a Patron (and our superhero) today.
Robyn Hood: Justice #6 (of 6)
Robyn Hood made a choice that justice and the safety of many people was more important then proving his innocence. A choice that leaves me perplexed about the concept of vigilante justice.
User Ratings (

0

Votes)

0