Wolverine has murdered Saturnyne in her own dinner party! What will be the consequence of this decisive action! Find out in Marauders #15 by Marvel Comics!
X OF SWORDS: MARAUDERS #15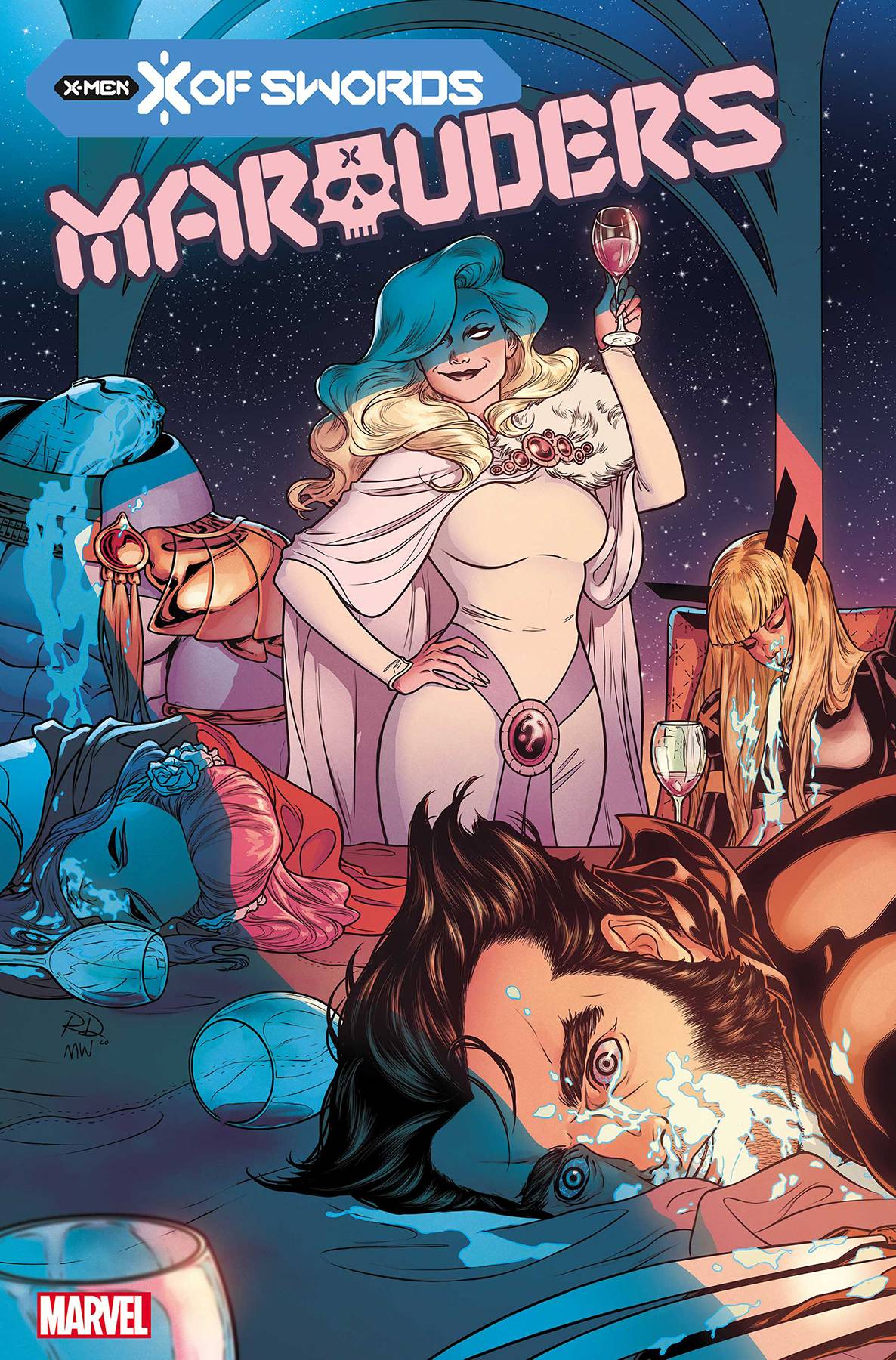 Writer: Gerry Duggan and Benjamin Percy
Artist: Stefano Caselli
Colorist: Edgar Delgado
Letterer: VC's Cory Petit
Editor: Jordan D. White
Publisher: Marvel Comics
Cover Price: $3.99
Release Date: November 11th, 2020
Previously in Marauders: It is the eve of the Contest of Swords. The Champions of Krakoa and Arakko meet for dinner with Saturnyne in the Starlight Citadel and tensions are high. However, the discourse turns bloody when Wolverine decides that the best way to save his people is to strike down his host!
THE DEATH OF EARTH
The issue starts with the aftermath of Wolverine's actions. Without a tournament, the forces of Arakko attack earth and destroy everything; including the Fantastic Four and the Avengers. For three days, Wolverine is crucified to observe the end of the world. But it was all a vision and Wolverine is snapped back to the moment right before he attacked. Everyone erupts into arguments and during this time Cipher eats food poisoned by War. He is then healed by The White Sword under the pretense that poisoning isn't honorable. 
The rest of the dinner is awkward as both sides try to make small talk with each other. Wolverine warns Storm about his vision and that they may need a contingency plan if they fail. At the end of the meal, Saturnyne announces who the first match is going to be. Betsy Braddock is going to take on Isca, the Unbeaten of Arakko. To the death!
FIGURING OUT WHAT IS IMPORTANT
Pacing felt very odd this session. I wanted to spend more time in this apocalyptic vision that Wolverine saw but instead after a few pages were thrown back into reality. For what? The rest of the issue was just conversations between both sides. Certainly the vision would have been more important to focus on to add weight to the consequences of losing. Instead of focusing on the consequence, we instead focused on seemingly inconsequential moments. Captain Avalon talking to Saturnyne to cancel the contest may be important. But was it necessary to show Cable being awkward around Genesis and Apocalypse? It just all felt a little unsettling.
BOTTOM LINE: NOT FUN
I think this may be the first issue in the event that I didn't really enjoy. I don't believe that the focus was in the right place. The creative team instead tried to feature every single character in this rather large cast of characters. This is what happens when you have nineteen sword-bearers and one host within this entire event. In future issues, I hope they don't feel the need to focus on each and every character in every single issue. Since we are going to individual fights, hopefully this won't be a problem. 3 out of 5 for this issue from me.
---
Dear Spoilerite,
At Major Spoilers, we strive to create original content that you find interesting and entertaining. Producing, writing, recording, editing, and researching requires significant resources. We pay writers, podcast hosts, and other staff members who work tirelessly to provide you with insights into the comic book, gaming, and pop culture industries. Help us keep MajorSpoilers.com strong. Become a Patron (and our superhero) today.
Marauders #15
Wolverine has killed Saturnyne! What consequences will this bring to the X-Men?
User Ratings (

1

Votes)

1.8