Nadia is in her worst nightmare. She has to save the man who killed her previous team! See if she make it out alive in Cyberpunk 2077 Trauma Team #3 by Dark Horse Comics!
CYBERPUNK 2077 TRAUMA TEAM #3 (OF 4)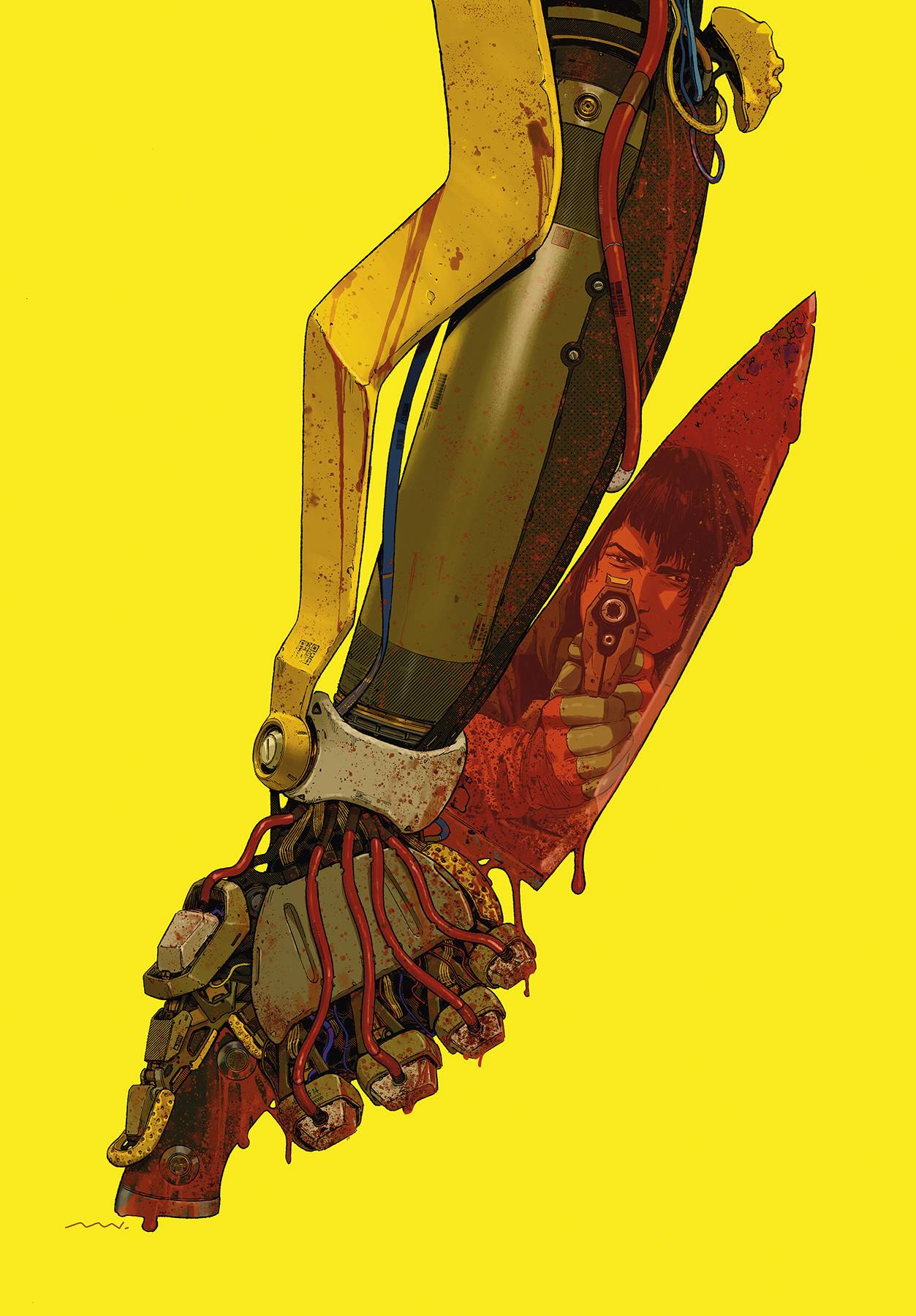 Writer: Cullen Bunn
Artist: Miguel Valderrama
Colorist: Jason Wordie
Letterer: Frank Cvetkovic
Editor: Megan Walker
Publisher: Dark Horse Comics
Cover Price: $3.99
Release Date: November 4th, 2020
Previously in Cyberpunk 2077: Nadia's previous Trauma Team was murdered by a man known as Apex. However, after she gets back into the field her new job is to save Apex himself. She has thus pulled a gun and pointed it towards Apex, stuck in a moral quandary of doing her job or getting revenge.
DELAYED AGAIN
Nadia has a gun pointed at Apex but doesn't commit to the action fast enough as her team members stop her. Nadia then resolves to complete the mission, however one of her teammates is gravely injured while escorting Apex out. Finding a brief amount of respite in an apartment, Nadia tries to save her fallen comrade but is distracted when a little girl in the apartment is sick and her teammate dies of his injuries. As Nadia diagnoses the kid, she gives Apex two stim enhancements as he kills everyone in the hallway, buying a little bit of time as they try to escape.
THE JOB OR THE TEAM
Nadia's inner turmoil is the main driving force of this comic. The plot itself is something that we have seen before but watching the inner monologue carries my interest in the issue. These inner feelings are even further complicated when we introduce a degree of normalcy by the mother and child in this apartment. The mother is desperate enough to ask the Trauma Team for help knowing that there is so much violence right outside her apartment door. The Trauma Team entered the home by throwing a grenade and causing a huge explosion! Yet the two people treated it as a normal occurrence. What a crazy world to explore!
BOTTOM LINE: THE DRAMA IS HIGH
The book is very dramatic. The world that Cyberpunk 2077 is exploring is very complicated and in depth. With the game coming out (eventually), we get a brief glimpse into the moral decisions the protagonist is going to have to make! I think this book is well written and well envisioned by the artistic team but there's some issues coming from a tabletop/video game medium to a comic book. Some of the expectations aren't going to stick as well. For example, hallways and hallways of action is fine in a game but in a comic it gets a little dull. Thus 3.5 out of 5 stars from me.
---
Dear Spoilerite,
At Major Spoilers, we strive to create original content that you find interesting and entertaining. Producing, writing, recording, editing, and researching requires significant resources. We pay writers, podcast hosts, and other staff members who work tirelessly to provide you with insights into the comic book, gaming, and pop culture industries. Help us keep MajorSpoilers.com strong. Become a Patron (and our superhero) today.
Cyberpunk 2077 Trauma Team #3
Nadia is here to save the day! However the person she is here to save is the killer of her previous Trauma Team.
User Ratings (

0

Votes)

0