Two more heroes are chosen to fight in the Contest of Swords. However, Betsy and Brian Braddock can't decide who is going to take on the mantle of Captain Britain! Find out more in X of Swords: Excalibur #13 by Marvel Comics!
X OF SWORDS: EXCALIBUR #13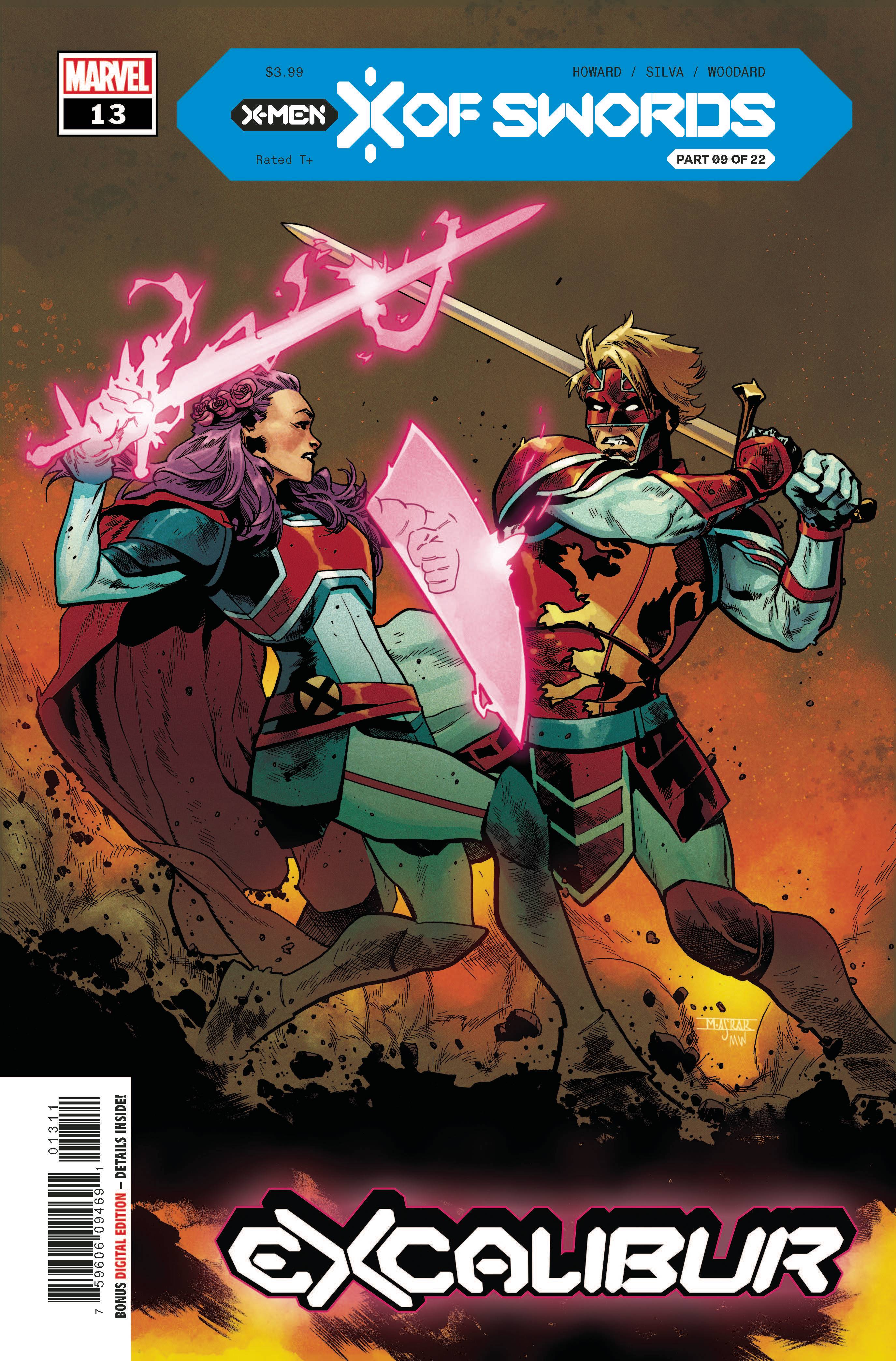 Writer: Tini Howard
Artist: R.B. Silva
Colorist: Nolan Woodard
Letterer: VC's Ariana Maher
Editor: Jordan D. White
Publisher: Marvel Comics
Cover Price: $3.99
Release Date: October 21st, 2020
Previously on X of Swords: Heroes from all over mutant kind have followed the prophecy and have taken up a sword to fight. A fight that could lead to the destruction of all of Earth if they do not win. Now Betsy and Brian Braddock have to find a new sword while also deciding who should weird the Sword of Might or take on the role of Captain Britain.
SIBLING RIVALRY 
Betsy Braddock has taken the role of Captain Britain when her brother was unable. However, as they reunite, Brian Braddock wants the amulet back to become Captain Britain. This conflict has turned into an issue that has led to a fight of words and swords. However, both reunite when Mad King Jamie is under attack by the other members of the disbanded Captain Britain Corps; though Jamie doesn't need any help. As Saturnyne arrests all of the Britain Corps, Betsy makes a power play to destroy the amulet. If Captain Britain is called to fight in the Contest of Swords, the amulet cannot pick a new person to hold the mantle.
Saturnyne made the rules and therefore has resolved to break them. After taking Brian Braddock into her room, she creates the Starlight Sword made from the Starlight Citadel itself. Instead of Brian taking the weapon, he instead takes Saturnyne into her bed. Before the act gets too heated, Jamie breaks Betsy out of her confinement and she is able to take the Starlight Sword. Brian, taking on the name Captain Avalon, resolves to allow Betsy to keep the mantle of Captain Britain. Both Captain Britain and Captain Avalon take their place as champions in the Contest of Swords.
FAMILY AND LOVED ONES
In the last chapter, we see Cable getting closer to his parents. In this chapter, we begin to see a theme of sibling love and rivalry emerging. I love the play of events with Brian choosing to take a different mantle then his sister and then distracting Saturnyne enough for Betsy to obtain the Twilight Sword. Heck, I feel like the complexity of this deception and the loyalty to each other as family is well written and thought out. And that when Saturnyne ultimately turned on Betsy, Brian resolved to choose family over anything else. Not that Brian struck me as a guy who would cheat for a quick evening with Saturyne. I do wonder if Brian can truly be happy with the mantle of Captain Avalon over Captain Britain and perhaps that will play out a little more in future issues. 
I also thought the inclusion of the rest of Captain Britain Corps was rather rushed. Jamie literally kills Jubilee and there is no time to grieve for it. Also Betsy resolved to break out the rest of the corps from Saturnyne's prison but ultimately just escaped by herself with Jamie. This whole section feels completely unresolved because I think the creative team ran out of pages. Hopefully we will see what happens after this mutant event is resolved.
BOTTOM LINE: X OF SWORDS IS GETTING INTENSE
I really enjoy the direction of the books in the last few issues. While Wolverine and Storm felt like heroes who rejected their family; this one felt like an acceptance of one. Hopefully these characters will be adequate foils to each other as the event continues. Regardless, I think this is a 3.5 out of 5 for me. A great issue in the scheme of the event but hurtful to the title after the event ends.
---
Dear Spoilerite,
At Major Spoilers, we strive to create original content that you find interesting and entertaining. Producing, writing, recording, editing, and researching requires significant resources. We pay writers, podcast hosts, and other staff members who work tirelessly to provide you with insights into the comic book, gaming, and pop culture industries. Help us keep MajorSpoilers.com strong. Become a Patron (and our superhero) today.
X of Swords: Excalibur #13
The Braddock family must decide who takes on the mantle of Captain Britain in the Contest of Swords!
User Ratings (

0

Votes)