Come check out the monthly series featuring two new stories! Rey is training to become a jedi on a remote planet and Darth Vader is attacking Echo Base! Find out more about these adventures in Star Wars Adventures #1 by IDW Publishing.
STAR WARS ADVENTURES #1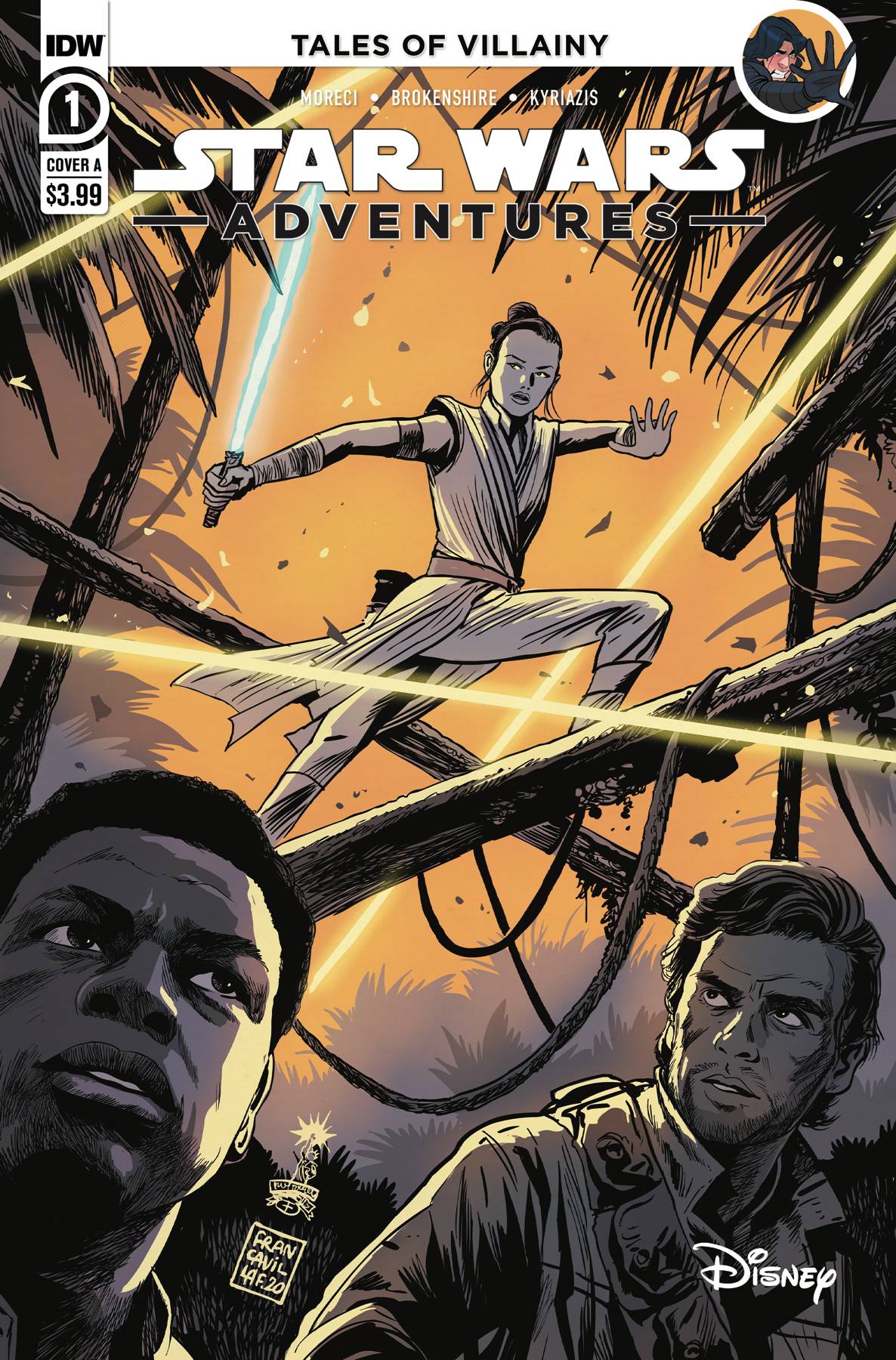 Writer: Michael Morechi and Nick Brokenshire
Artist: Ilias Kyriazis and Nick Brokenshire
Colorist: Charlie Kirchoff and Nick Brokenshire
Letterer: Jake M. Wood
Editor: Elizabeth Brei
Publisher: IDW Publishing
Cover Price: $3.99
Release Date: October 7th, 2020
Previously on Star Wars Adventures: Every issue of this new Star Wars comic will feature two stories with your favorite characters! This story features Rey heading to Noaxson to train and Darth Vader attacking Echo Base on Hoth.
WHY DIDN'T ANYONE SCOUT AHEAD
Poe and Finn had set up an obstacle course for Rey but they didn't prepare very well. The obstacle course is on dangerous terrain because of the weather and plant life and perhaps worse… the planet is infested with pirates! Finn and Poe are quickly captured at their ship while Rey runs into their hideout. The pirates near Rey begin to escape to inform the First Order and Rey must take her obstacle course to hunt them down.
In the second story, Darth Vader is attacking Echo Base but finds an abandoned base. Darth Vader is clearly looking for his son but Luke, Leia, and Han are able to escape!
FUN FOR YOUNG READERS
I thought about the cultural reach Rey had as a protagonist when Episode 7 was announced. A female protagonist like Rey is a positive role model for my daughter and many other people out there. While I have been wishy washy with the Star Wars franchise, I enjoy the effect and influence of some of the decisions made. This comic reminded me of that. I don't know what I was expecting when I picked up the title, but I know that the determination of Rey is going to have a positive impact. Meanwhile, Vader is not as influential as a character for kids and isn't going to be easy for a kid to connect too. So seeing both of these characters in one book with two different stories didn't flow very well for me. This isn't a slight on the individual stories but rather with the small anthology as a whole.
BOTTOM LINE: WELL, I AM AN ADULT READING A KIDS COMIC
I find it hilarious that I always pick up these #1 Star Wars comics in an attempt to get a deep and personal Star Wars story and instead get a kids book. The themes are simple and understandable for a young reader and that is what the book sets out to do. However, as an adult I don't think that it connects very well to me. 3.5 out of 5 stars for this book but I would gladly recommend this to any kid looking to get into comics or Star Wars.
---
Dear Spoilerite,
At Major Spoilers, we strive to create original content that you find interesting and entertaining. Producing, writing, recording, editing, and researching requires significant resources. We pay writers, podcast hosts, and other staff members who work tirelessly to provide you with insights into the comic book, gaming, and pop culture industries. Help us keep MajorSpoilers.com strong. Become a Patron (and our superhero) today.
Star Wars Adventures #1
This comic features two stories! One featuring Rey and the other with Darth Vader!
User Ratings (

0

Votes)

0