Mary Medina has retired the mantle of Mystere to run a homeless shelter. However, a threat arrives where she has to use her powers again. Find out more in Mystere: Voodoo Dawn by Zenescope Entertainment! 
MYSTERE: VOODOO DAWN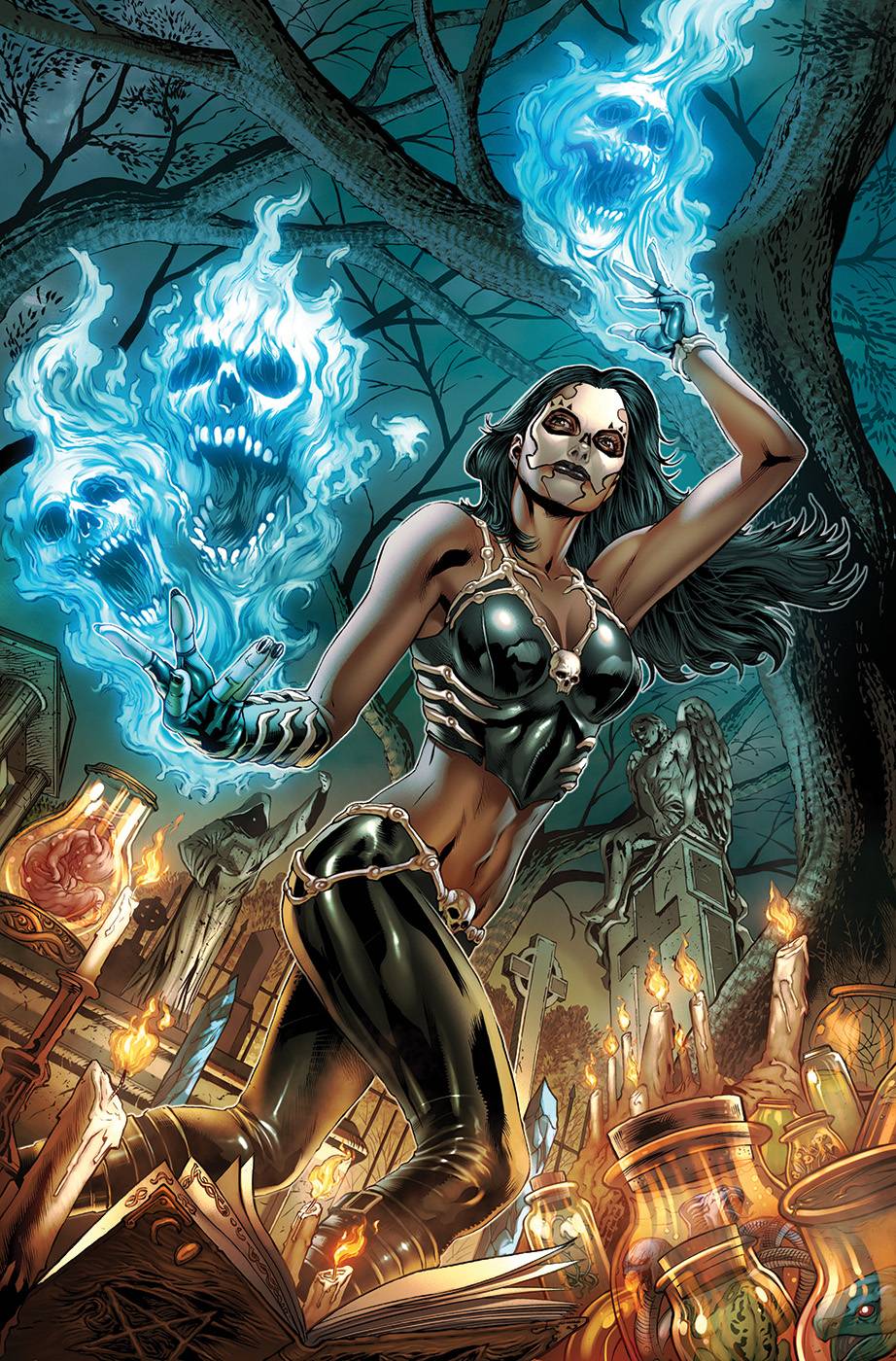 Writer: Joe Brusha
Artist: Babisu Kourtis
Colorist: Grostieta and Fran Gamboa
Letterer: Taylor Esposito
Editor: Kellie Supplee and Dave Franchini
Publisher: Zenescope Entertainment
Cover Price: $5.99
Release Date: April 21st, 2021 
Previously in Mystere: Mary Medina has been haunted by her necromancer powers for all her life. Eventually, she was able to get a semblance of control and began to scam people out of their money by convincing them they were haunted by spirits. But that life is over, and now she runs a homeless shelter giving people the help that she didn't get.
Mary Medina has a new visitor in her homeless shelter. As she sits down to talk to her, she reveals that she is Calista, sometimes called Mama Cal. Calista wants her to drive to Charleston and Mary feels compelled to obey. They arrive in Charleston to see a shop broken into and four voodoo priests looking for someone. Mary uses her Mystere powers but is quickly defeated. Calista reveals that they stole Domingo's ring, a man who upset a loa and paid the price. Sure enough, Domingo arrives to kill Calista and take her powers of manipulation and persuasion. Domingo summons a storm that could tear apart Charleston and Calista allows herself to be killed to save the town.
Mystere takes the body of Calista and summons her spirit. Mama Cal encourages her to use her powers for good and fight off the people who use their loa for evil. She prepares to fight, and with the help of Calista she is able to summon the spirits of ancient warriors that are able to defeat the voodoo lords.
UNFAMILIAR WITH THIS MYTHOS
This book feels like a reintroduction to Mystere and what she is about. We get a view of who she is, what her powers do, and a little bit of insight into the setting. However, I couldn't get terribly invested in the plot because it was moving very fast. Suddenly Mama Cal was dead and then we are speaking to her spirit? So much is happening in every page and this comic could probably have afforded a second issue. However, I think this written more to prepare us for the next major arc rather than to be a hard-hitting emotional story.
I am very unfamiliar with the loa lore. I find that media hasn't been terribly friendly to voodoo and that type of religion or magic. As I look at this, I find myself excited to explore what voodoo actually means and I went down a google search rabbit hole while doing this review. How exciting of a concept and I think we have the potential to go far with these concepts. Great art and good writing. I'm looking forward to seeing what the creative team comes up with next.
BOTTOM LINE: LOVELY CONCEPT
I enjoy stepping into this mythology and setting and I want to know more. While the plot didn't grasp me, the world did. 3.5 out of 5 for this one from me and looking forward to whatever comes next.
---
Dear Spoilerite,
At Major Spoilers, we strive to create original content that you find interesting and entertaining. Producing, writing, recording, editing, and researching requires significant resources. We pay writers, podcast hosts, and other staff members who work tirelessly to provide you with insights into the comic book, gaming, and pop culture industries. Help us keep MajorSpoilers.com strong. Become a Patron (and our superhero) today.
Mystere: Voodoo Dawn
Mystere has a good setting and mythos that has the potential for great stories. This book serves as a reintroduction to the title character and the world.
User Ratings (

0

Votes)

0