The Flash returned to The CW last night much to our joy. This week, saw some old allies and even older enemies appear. This week in Flashback we take a look at the events and storylines from DC Comics that inspired Potential Energy, Season 2, Episode 10 of The Flash.
Barry and the Star Labs team hunt down The Turtle who can slow down time especially anyone with speed. Barry faces a choice to whatever or not Patty should learn his secret identity especially after Zoom returns to Earth 1 to kidnap her.
If you missed the episode, you can watch it for free at CWTV.com
THE CHARACTERS
The Turtle

If you listen to the Flashback Podcast (and really, why aren't you?), you've heard me ponder how great it would be if the Turtle ever appeared on the show. This week, I got my wish, and we all watched as the villain used his powers to slow the Flash to a crawl.
While Turtle Man was Barry Allen's first gimmicky rogue, The Turtle was first a 1940's villain, who used tricks to battle Jay Garrick. His method of fighting the Flash? Slow deliberate planning. No, really… Slow. Deliberate. Planning. The idea was he would move so slowly that the Flash would run into things because he was too fast. Turtle made his debut in All-Flash Quarterly #21, and was created by Gardner Fox and Martin Naydel.
Eventually Slowly, the Golden Age Turtle Man went away until the dawn of the Silver Age.
The Turtle Man resurfaced in Showcase #4, the first appearance of Barry Allen. In that adventure, Barry attempts to stop a bank robbery in progress, only to discover the bank vault is open and nothing has been stolen. When the Flash leaves, Turtle emerges from his hiding space and makes off with the loot. While the scheme may have seemed quite clever, Barry was able to capture the villain in a… flash. No kidding, that's the wording used in the comic.
Toward the end of Wally West's run of the Flash, the Turtle (or Turtle Man) appeared to return from the dead (long story), with the ability to negate the power of speedsters, very much like what we saw in this week's episode.
Wally West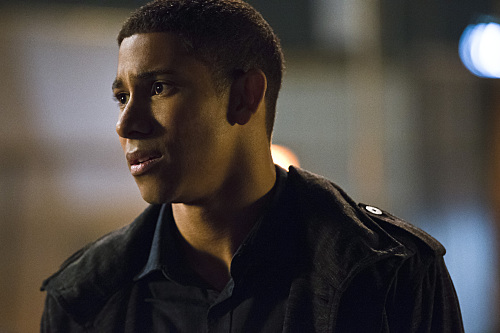 Wally West returns this episode, and as we've mentioned previously, the character is quite a bit different than the Wally West many have known for decades. In the New 52, Wally West is/was a hero who had speed powers, but during the Five Year Later storyline, it is revealed that Wally died in a car crash. While the fate of Wally may have changed, it is interesting to note this fact as Wally West of The Arrowverse is revealed to be an illegal street racer, earning money for his mother's medical bills.
While the name Wally West will be forever tied to John Broome and Carmine Infantino, the New 52 Wally West, appearing in Flash #30 (April 23, 2014) was created by Robert Venditti, Van Jensen, and Brett Booth.
Patty Spivot
Poor Patty Spivot; seems like her time on The Flash was never meant to be that long, and that she was never meant to get the guy (or discover who was under the mask). While you may be crying tears for the romantic nerd duo, keep in mind that in the comics, Patty's relationship with Barry was also doomed. Granted, Patty didn't run off to Midway City University, instead she became the villain Hot Pursuit only to be transported to the year 3011 thanks to a timestorm.
While in the 31st century, she teamed with Bart Allen, to escape from Brainiac and attempt to fix the timeline. Sadly, Patty did not survive. On the plus side, New 52 happened, and she's back and she in a relationship with Barry. Yay!
LOCATION LOCATION LOCATION
Markovia
Markovia is the home of Tara and Brion Markov (aka Terra and Geo-Force), and is located between France, Belgium and Luxembourg in the DCU. Terra played a big role in the New Teen Titans arc, The Judas Contract, and the country has popped up more than a few times in the Arrowverse. The country was first mentioned in The Brave and the Bold #200 (July 1983) making Mike W. Barr and Dave Gibbons the fictional country's creators.
Midway City
Patty decides it is best for her to move to Midway City to attend Midway City College so she can become a CSI.  It's a sad moment for Barry and Patty.
If you are a fan of Hawkman or Hawkgirl, or even the Doom Patrol, then Midway City is on your radar. It was originally thought that Midway City was located around the Chicago, Illinois area, but in 1977 it was placed firmly in Michigan, near Sault Ste. Marie.
Mama Chow's Fine Dining
This is not the first time Mama Chow's Fine Dining has appeared in the series. The Chinese food takeout restaurant first appeared in the Arrow episode "The Offer" on March 18, 2015. The restaurant appeared again in the Flash episode "Fast Enough". To my knowledge, there is no Mama Chow's Fine Dining in DC Comics. There is an Egg Fu, but that is something that should be left alone.
Naydel Library
The climax of the episode takes place at the Naydel Library where we discover the Turtle has kidnapped Patty and plans on "adding her to his collection". While it is hard to find any information on Martin Naydel, he was the artist on All-Star Flash Quarterly when the Turtle Man was first introduced.
META REFERENCES
There were all sorts of references this week that tie the real world to this fictional world.
The White Shadow
This is an old TV series that ran on CBS from 1978 to 1981. The show starred Ken Howard as a white professional basketball player who retires after an injury, and becomes the head coach at a mostly black and Hispanic high school in South Central Los Angeles.  Interestingly, the series also starred Larry "Flash" Jenkins in season three.
Russell Glosson
The Turtle Man's name was never Russell Glosson, so why even mention of his name this week? Could it be because Starkville Labs: The Flash Podcast is hosted by Derek Russell and Steve Glosson? I sure I get a shoutout in the show one of these days.
Vandervoort Diamonds
I couldn't find anything specifically tied to Vandervoort in DC Comics, but those who love Supergirl know that Laura Vandervoort played Supergirl on Smallville, and the actress will be returning to the CBS Supergirl series this season.
The Crystal Ball
Interestingly, The Crystal Ball is a real painting by John William Waterhouse. While it is on display in the Arrowverse, in our world it is in a private collection.
IT'S CALLED A SECRET IDENTITY FOR A REASON!
There was a perfect moment for Barry to reveal himself to Patty this week, but alas, the list did not change.
Dr. Harrison Wells (deceased)
Eobard Thawne (as Dr. Harrison Wells)
Dr. Harry Wells (Earth-2)
Dr. Caitlin Snow
Dr. Cisco Ramon
Detective Joe West
Ronnie Raymond (deceased)
Dr. Martin Stein
Mrs. Clarissa Stein
Hartley Rathaway (Pied Piper)
Felicity Smoak
General Wade Eiling
Oliver Queen (Green Arrow)
John Diggle
Bette Sans Souci (deceased)
Dr. Henry Allen (out of prison)
Iris West (in another timeline)
Iris West-Allen (in the future)
Iris West (via spark touch)
Leonard Snart (Captain Cold)
Detective Eddie Thawne (deceased)
Ray Palmer (The Atom)
Brie Larvan
Laurel Lance (Black Canary)
Hannibal Bates (Everyman) (deceased)
Gorilla Grodd
Lyla Diggle (Harbinger)
Jay Garrick (The Flash of Earth-2)
Dr. Henry Hewitt
Jefferson Jackson (Firestorm)
Linda Park
Malcolm Merlin/Al Sa-Her/Ra's al Ghul
Vandal Savage
Kendra Saunders (Hawkgirl)
Cater Hall (Hawkman)
Thea Queen (Speedy)
And that should be everything! What did I miss? What did you catch? Use the comment section below to share your thoughts on this episode, and until next week – RUN, BARRY! RUN!
The final shot of this week's episode was a jaw dropper as we see the return of The Reverse Flash!
https://youtu.be/u8-k8O9GpBY
FLASHBACK: THE PODCAST
Want to hear Matthew Peterson and I sit down to discuss this episode in detail? If you are a Major Spoilers VIP, look for the Flashback Podcast hitting the VIP site very soon!
[signoff predefined="PayPal Donation" icon="icon-cog"][/signoff]